As a lawyer, Nafisa Nihmat is determined to present a fully-rounded picture of a new generation of highly educated young people from the Xinjiang Uygur autonomous region, as Cui Jia reports from Shanghai.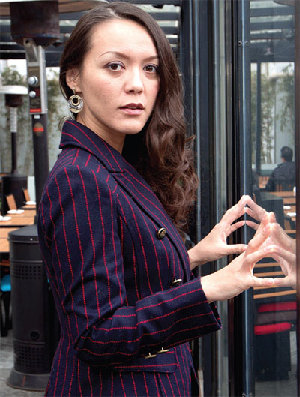 Nafisa Nihmat is an associate at a leading law firm in Shanghai. Gao Erqiang / China Daily
Nafisa Nihmat moved to Shanghai to study law because she wanted to emulate the female lawyer in a book she read when she was in junior high school.
Now, as an associate at a leading law firm in the city, the native of the Xinjiang Uygur autonomous region is determined that everyone, including top officials, should understand the importance of handling Xinjiang-related issues in accordance with the law.
"My friends from Xinjiang say I am a real Xinjiang girl, while those from Shanghai say I have the character of a Shanghainese. My classmates at university in the United States asked me which state I was from because I didn't appear Chinese to them at all," said the smartly dressed 36-year-old, who has a 2-year-old son.
Recalling her time growing up in Tekes, a county in the Ily Kazakh autonomous prefecture, she said: "Little did people know it, but during the 1980s the people in Ily were the trendiest in China. During the winter, they wore leather boots, fitted coats and colorful cashmere scarfs imported from the Soviet Union."
As a child, Nafisa spent hours gazing into the eyes of her relatives, who came from a number of ethnic groups - including Uzbek, Russian, Kazakh and Uygur - and noting the different colors. Like her mother, Nafisa has dark-brown eyes, but her aunt's are green, and her cousin's are blue.
"I was brought up to believe people should respect each other's religions and customs from the start, instead of telling people to feel OK after they have clearly been offended, so I am not Charlie," she said, referring to the murders of 17 people during and after an attack on the Paris offices of the satirical magazine Charlie Hebdo, which she described as "a horrific crime".
Respecting differences
She said that when she was a child, her mother stressed equality, and told her it would be disrespectful to step on the ashes left on the streets when Han people burned ceremonial paper gifts in memory of their ancestors.
"Xinjiang is probably the only place in China where people from so many different ethnic groups live side by side. Unlike those who grow up in less-diverse environments, Xinjiang people know how to accept and respect each other's differences," she said.
She has also become familiar with the special measures, including a tighter inspection regimen, that people from Xinjiang experience whenever an attack occurs in the region, which has long been China's front line in the fight against terrorism. In recent years, the growth of religious extremism has exacerbated the situation, according to officials.
"People should understand that Xinjiang is now hitting terrorist cells hard, and it's natural that we will see more attacks because the cells feel they are cornered and so they decide to carry out violent acts. It's like sweeping the floor - the more you sweep, the more dust you see, " she said.
She said she doesn't resent the special attention, so long as the process is conducted lawfully and sensitively, as was the case recently when she was approached by a police officer after she checked in to a hotel in Hangzhou, the capital of Zhejiang province.