As an energetic young English teacher in Beijing, Nurali Abliz from Urumqi, the capital of the Xinjiang Uygur autonomous region, is passionate about two things: teaching his students fun ways to master the language, and passing on the positive energy of his native region.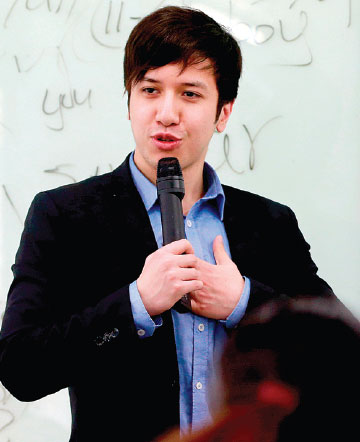 Nurali Abliz from Urumqi works as an English teacher in Beijing. Feng Yong Bin / China Daily
When the 26-year-old Uygur, who refers to himself as Ali, attended the interview for his current job, he suddenly realized he was wearing a T-shirt bearing the slogan "positive energy" under his shirt. Although it was purely coincidental, that's exactly the feeling he wants to create.
He certainly caused a buzz last year when he made a speech called "Lifting the Veil on Your Face", on Super Speaker, a popular TV program where the contestants vied to win the title of "China's Best Speechmaker 2014".
Ali said he didn't enter the competition to win, but to change public perceptions of Xinjiang people. At the beginning of his speech, he donned a doppa - the traditional flat hat worn by Uygur men - and said some people put labels on Xinjiangers and the region without bothering to challenge the stereotypes, such as everyone riding donkeys to work or being skillful barbeque chefs.
He then removed the hat, and said generalizations are commonplace, and everybody suffers them at some point, no matter where they come from.
Ali became a teacher when he was a 19-year-old student at Peking University in Beijing, one of China's most prestigious seats of learning. Now, his account on Sina Weibo, a Chinese Twitter-like social network where he regularly posts fun, English-oriented videos, has more than 3 million followers.
In addition to teaching materials, Ali also posts homemade videos to clear up misunderstandings about Xinjiang. "Generalizations can lead to discrimination, and ignorance mixed with a little fear can spark hatred," he said.
To illustrate his point, he referred to a well-known incident in Hunan province in December 2013, when a man from the majority Han ethnic group was arrested and punished after a scuffle with a couple of Uygur men. The fight started after the man accused the vendors of cheating him on the price and weight of a slice of nut cake, which was heavier and more costly than he'd assumed.
Made with a mixture of nuts, sweets and rice, nut cake is a Uygur specialty that's popular across China. In Xinjiang the cakes are typically sold by vendors who cut slices from the large slabs they carry on their tricycles.
When the man, who many people believed had been cheated, was ordered to pay compensation of more than 152,000 yuan ($24,403), the public reaction was heated. The incident sparked national headlines, and prompted fierce debate and claims that Xinjiangers routinely cheat people from other ethnic groups.
In response, Ali posted a video in which he wore a doppa and explained that the costly ingredients mean the cake is always expensive. He also joked about how much money he'd made from selling the cakes. In a more serious vein, he urged the public not to label Xinjiang people as cheats, and pointed out that one bad apple doesn't spoil the whole barrel.
"When people ask me about the problem, I always give the same answer: The education system is wrong. Only education can provide the critical thinking skills that can prevent false labels being put on Xinjiang people, but an education system that only teaches students how to achieve a good score won't achieve that," he said. "I want to change many things in society for the better, but first I will need to become a stronger person."