Many foreign students enjoy living in Xi'an Jiaotong University in Xi'an, the capital of Shaanxi province, and have made great progress in their studies.
Bilal Haider Shansi came to Xi'an Jiaoda from Pakistan in 2010 to earn a master's degree in clinical pediatrics and has published five high-level articles in the pediatric field under the guidance of his Chinese mentor. He has also participated in four International Pediatric Association conferences and been involved in the writing of a book, Technological Innovations in Major Oil Crops.
And he learns and loves to write poetry in Chinese in order to express his deep affection for China, his second homeland, with this beautiful language form.
After successfully completing his master's degree, Bilal chose to stay in Xi'an Jiaotong University to pursue his doctorate.
During the past four years studying in Xi'an Jiaoda, the Pakistani young man was also a two-time winner in the Chinese-language speech competition for foreign students who were studying in Shaanxi province.
"Studying in Xi'an Jiaoda, the knowledge palace, I have learned medical knowledge and learned to be a real man. I will serve my people and country with my knowledge, and I will work hard to build the friendship bridge between Pakistan and China," Bilal said.
There were 1,986 foreign students from 86 countries studied at Xi'an Jiaotong University in 2013, according to the university's institute of international education.
Xi'an Jiaoda's foreign-student education started as early as 1995 and the institute was established in 2006, receiving 12,419 foreign students till now. The school is responsible for the academic affairs of all foreign students, including formulating and supervising the policies, student recruitment, immigration and logistics, students' daily life affairs, coordination of students academic work, undergraduate students programs of Chinese language teaching and academic development.
Xi'an Jiaoda's medical education for foreign students, which began in 1995, made the school well-known. It began all-English medical education to foreign students in regular college courses in 1995 and started to give all-English classes to graduate students in 2000.
From 1995, the school has trained about 1,000 foreign medical students from 63 countries, and its number of medical graduates is the most in the country.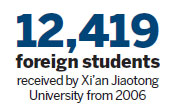 In 2005, the Ministry of Education introduced quality control standard for foreign medical students. Xi'an Jiaoda started to follow this rule to train students from 2007.
In 2010, the central government issued a plan of study in China, and Xi'an Jiaotong University paid much attention to high-level training for foreign students.
From 2011, the university launched a special scholarship for graduate student education with English in school of management, school of electrical engineering, telecommunication institute, dynamic college and school of mechanical engineering, in order to cultivate international expertise in the relevant fields.
By now, more than 100 excellent foreign students have been supported by the scholarship in their study in the university, and Xi'an Jiaoda also plans to start all-English education for all graduate students of the university.
In order to implement the long-term education reforms and development plan of China (2010-2020) made by the Ministry of Education, Xi'an Jiaotong University plans to enroll 3,000 foreign students by 2020.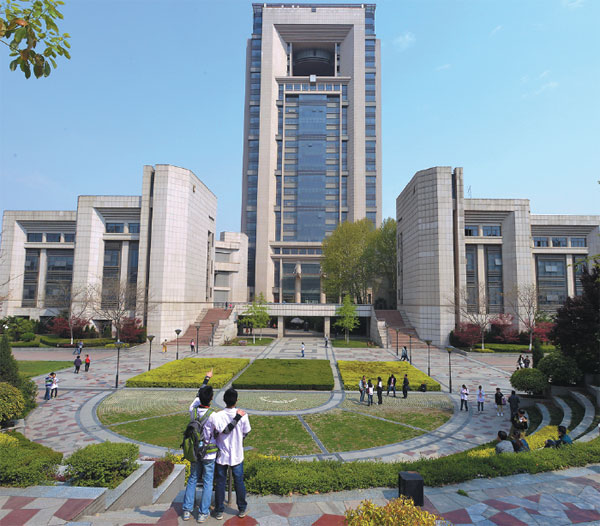 The campus of Xi'an Jiaotong University in Xi'an, the capital of Shaanxi province.  Photos Provided to China Daily
(China Daily 12/29/2014 page7)