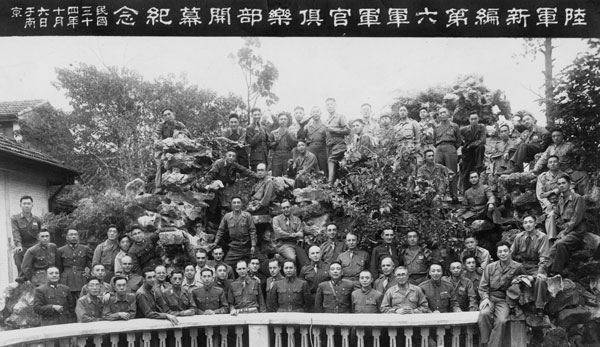 Major Zhao Zhenying with fellow Chinese and Allied officers of the New 6th Army in October, 1945. CHINA DAILY
The historic role played by a Chinese veteran of World War II went unacknowledged for more than 60 years, until a chance discovery brought it to light, as Zhao Xu reports.
For Zhao Zhenying, from west Beijing, the second half of 2014 has been incredibly busy, perhaps a little too busy for a 98-year-old war veteran.
On July 7, Zhao was invited to attend a memorial ceremony at Lugou Bridge, often known as the Marco Polo Bridge, in Beijing's southwestern suburbs, to meet with President Xi Jinping.
It was at the bridge 77 years ago that the Chinese Army fired the first shots against the Japanese Imperial Army and started the eight-year War against Japanese Aggression (1937-1945).
Just two months after his meeting with Xi, Zhao's wheelchair was pushed into a room in a Beijing hotel, where he was confronted by legions of reporters armed with cameras and notepads. Just a short distance away at the Beijing Military Museum previously unseen photos, part of an exhibition exploring the cooperation between China and the United States during World War II, were attracting hordes of visitors.
"In the time between the memorial ceremony and the exhibition, we received a constant stream of interview requests from as far away as Hong Kong and Macao. I answered them all," Ni Yingfeng, who has been Zhao's carer for two years, said. "The exhibition brought ever more calls than we could possible handle."
Security chief
Small wonder. Between 1939 and 1945, Zhao was a soldier in the Chinese Nationalist Army, and fought the Japanese both at home and overseas. And when Japan officially surrendered to Chinese forces on September 9, 1945, Zhao, a battalion commander, was responsible for security at the ceremony in Nanjing.
However, all this attention would have been unimaginable on September 9, 2005, when a grand memorial was held at the Historical Archives of the Nanjing Military Command, whose main building was the site of the 1945 ceremony of surrender. Zhao wasn't invited.
"No one had any idea about his existence," said Yan Huan, who as the grandson of Pan Yukun, a prominent Nationalist general during the war, was among the guests.
"In retrospect, if there's one person who should have been invited, it's Mr Zhao," Yan said. "He saw everything with his own eyes-none of us did."
Things soon took an unexpected turn. Yan, an architect-cum-amateur historian who found his late grandfather's wartime history so intriguing he decided to write a book about it, unearthed crucial information in early 2006.
"During my online research for the book, I discovered a website set up by Neal Gardner in about 1999. Neal had photographed, scanned, and pasted all the souvenirs, papers, and photos brought back by his late father, John Gardner, a US Army major, at the end of his two-year stint in what is known today as the China-Burma-Indian, or CBI, Theater of World War II. "My father came back in October 1945, and passed away on November 24, 1986 at the age of 73. I guess this is my way to remember him," the 62-year-old wrote in an e-mail to China Daily.
Two items immediately attracted Yan's attention-a small red diary that bore a number of Chinese signatures, and a photo of a group of US and Chinese officers, with the words "In Memory of the Opening of the New 6th Army Officers' Club" printed in Chinese along its upper edge. "I immediately contacted Neal and asked for permission to paste the photos on a Chinese website," Yan said. "Then, in the early spring of 2008, a man called from Beijing, saying his 92-year-old father has recognized himself in the photo on the website and had seen his own signature in the diary.