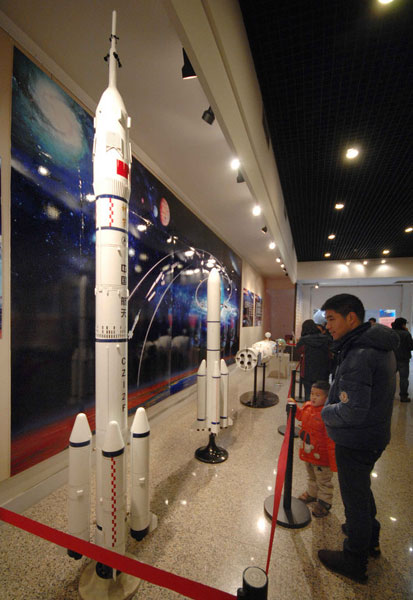 Visitors look at a model of a rocket on Dec 28, 2013 in Haining city, East China's Zhejiang province. [Photo/IC]
China should develop a new-generation heavy-lift launch system that is even more powerful than the Long March 5, which is under development and will send the nation's manned space station in to orbit, industry insiders have urged.
"It is a must for us to develop a more powerful heavy-lift rocket if we want to reach and explore deep space," Zhang Zhi, a senior rocket researcher at the China Academy of Launch Vehicle Technology, told China Daily on Wednesday as he attended the ongoing 10th China International Aviation and Aerospace Exhibition in Zhuhai, Guangdong province.
Zhang's academy is the leading space launch vehicle manufacturer in China, producing all of the nation's strategic missiles and the Long March rocket family.
"Despite the Long March 5 being much stronger than its predecessors, it will still be unable to send a manned mission to the moon," he said, explaining that such a mission requires the rocket to transport at least 100 metric tons of payload to low Earth orbit while the Long March 5's payload cap is 25 tons.
"Therefore the Long March 5's tasks will be sending the unmanned probe for the lunar exploration program and ferrying the cabins of the manned space station," he added.
Luo Xiaoyang, a high-ranking official at the academy, said the next-generation heavy-lift rocket will have a diameter of up to 10meters and boast a payload capacity of more than 100 tons, powerful enough to launch large space stations.
Talking about the Long March 5, Luo said the rocket is planned to conduct a launch drill at the new Wenchang Satellite Launch Center in Hainan province before the end of this year. He added that the date of its first launch has yet to be determined.
Development of the Long March 5, China's heaviest and most technologically sophisticated space launcher, started in 2006with six configurations planned for different missions.
The rocket stands nearly 57 meters with a diameter of 5meters. Its launch weight can be as much as 800 tons.
It features a cutting-edge engine, components and structural materials, according to Luo.
The rocket will use liquid oxygen/kerosene or liquid oxygen/liquid hydrogen as propellants, making it much more eco-friendly.
In addition to the Long March 5, China is also working on the Long March 7, a medium-heavy launch vehicle that will ferry the unmanned Tianzhou cargo spacecraft to the country's future space station.
Contact the writer at zhaolei@chinadaily.com.cn