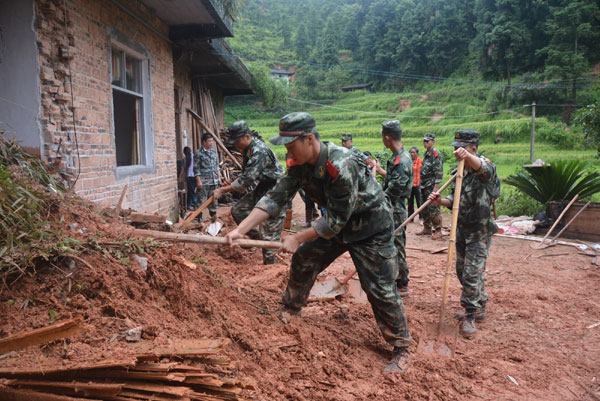 Soldiers clean dirt at Fengcheng village of Zuo'an township in Suichuan county, East China's Jiangxi province, Aug 13, 2014.  [Photo/Xinhua]
NANCHANG -- The death toll has increased to seven after downpours triggered landslides on Tuesday evening in the eastern province of Jiangxi, local authorities said on Wednesday.
As of Wednesday afternoon, rescuers had retrieved two more bodies, bringing the death toll to seven after heavy rainfalls battered Suining County, according to the press office of the county government.
Severe downpours hit multiple townships in the county and led to geological disasters.
Local governments have sent about 200 rescuers, including armed police officers and fire fighters, to the disaster-hit region and relocated about 2,060 people to safer places.
The disaster area will be hit by more rain from Wednesday to Friday, said the local meteorological station.