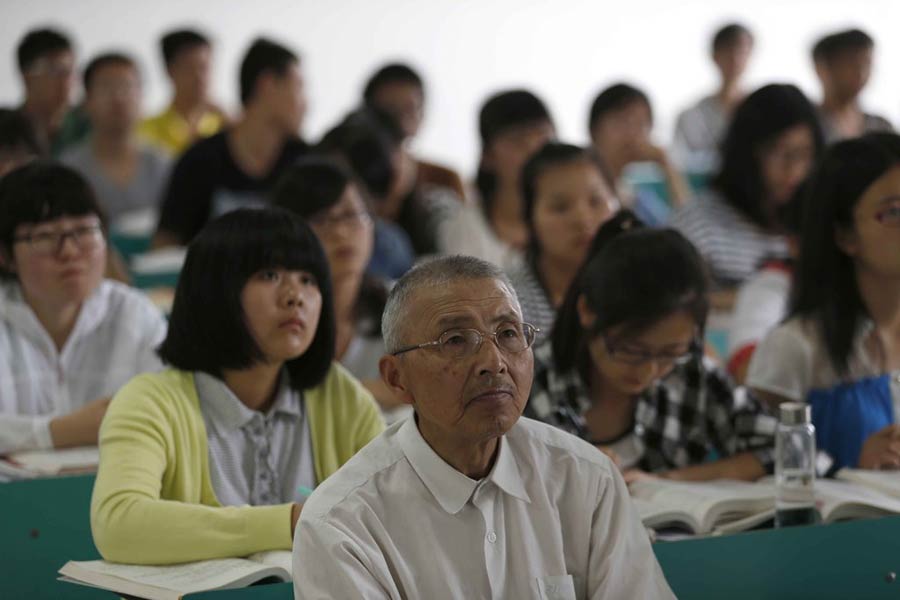 Zou Weimin attends class in Jiaxing University, May 22, 2014. [Photo/CFP]
Determined to fulfill his dream of finishing his studies, a 73-year-old man has finally graduated from university.
Zou Weimin, born in 1941, completed his bachelor's degree from Jiaxing University in Zhejiang province on June 9, 2014.
Zou, who got admission in Hangzhou Normal University in 1960, was forced to quit because of financial difficulty. Since then, college life became his biggest dream.
In 1977, when China resumed its college entrance examinations, Zou missed the opportunity again because of age limit.
After four years, China cancelled its age restrictions and Zhou began his tough road of attending college.
Two years of hard work finally paid off when he scored 317 in 2003, 34 higher than the minimum entrance limit, but Zou lost the chance because he didn't know how to go through the application process after the exam.
He didn't give up. He applied to study in a technical college as an advanced student for three years and at the same time kept appearing in exams every year.
Despite numerous failures and chances slipped, Zou was finally recruited by Jiaxing Nanyang Polytechnic Institute in 2008 and enrolled at Jiaxing University in 2012, its eldest student since its foundation, through the upgraded exam from junior college to university student.
During his two-year study in Jiaxing University, Zou always paid more attention to his courses than his classmates. Because of his age, Zou was easily recognized by other students. They gave him lovely nicknames and liked to talk with him and listen to his old stories of taking the exams.
Before graduation, many of his classmates came to see him. They gave him a photo album at the graduation party, which recorded six years of his life in both Jiaxing Nanyang Polytechnic Institute and Jiaxing University.
"Now that I have graduated, my next goal is to pursue a postgraduate degree. Though I failed the exam, I will not give up." Zou said.
At the age of 73, Zou's health is not as good as before, but he will continue to pursue his postgraduate dream.