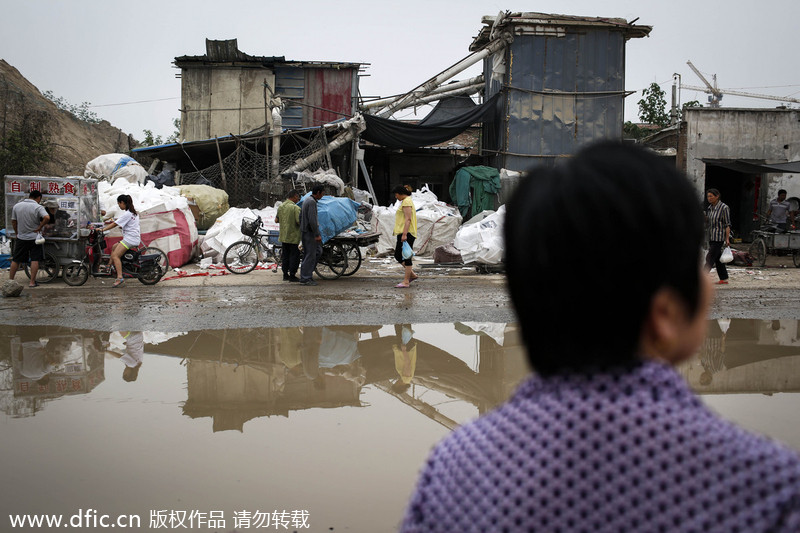 A woman watches as sellers run their business across the road, at the former site of the Fuyouxinyuan Renewable Resources Recovery Market in Dongxiaokou village, June 18. [Photo/IC]
Dense, pungent smoke rises from burning material at the curbside. A primitive method of recycling and disposing of e-waste, using highly-concentrated sulfuric acid, leaves excessive heavy medal in water and soil. An episode of Chinese science fiction The Waste Tide finds its real-life replica in a northern Beijing suburb.
Nearly a year after the Fuyouxinyuan Renewable Resources Recovery Market, once the city's largest waste distribution center, was demolished,  more than 10,000 people -- mostly non-local -- remain in the area and continue their lives in filthy conditions, neither able to change their means of survival due to a lack of skills, nor ready to leave Beijing and start anew.
Not a part of the great migration of the population -- as most non-locals either follow bosses to work elsewhere, or heading back home, those business owners who are holding out cherish their business connections, and are aware that the government did not assign a new waste center to take over Fuyouxinyuan's work., while the mega city with more than 20 million residents definitely has a huge market for waste management.
The market in Dongxiaokou village of Changping district used to occupy 88,666 sq meters and had more than 30, 000 people engaged in waste-related businesses. Dongxiaokou was dubbed a "waste village" for treating a quarter of the capital's total garbage.
Migrants, especially from Central China's Henan province, accounted for 90 percent of workers there, while only a small proportion were Beijingers. Despite being business competitors, the two groups learnt codependency, encountering the same conditions such as shabby homes without piped water and a decent toilet and the health risks from electronic and chemical waste exposure or explosions.
In May 2010, the Beijing government launched an overhaul of some suburban villages with the aim of promoting urbanization. Included in the plan was pollution-hit Dongxiaokou with the market demolished and the people relocated.
By the end of August last year the market was gone and about 6,000 people forced out of the area by the government. Eight resettlement buildings began construction on the market site and will be finished by 2015, and another 15 buildings were constructed in a nearby village. Half are for Dongxiaokou residents' resettlement.
The government has not revealed how many migrant workers can be resettled, or how many have left. No statistics or surveys is yet able to explain where the migrants would end up, and how they may tackle their fulture.
Li Li, who runs a plastics recycling business, said he already found a stall in Huilongguan waste market, about 7 kilometers from Dongxiaokou also in Changping district. But he said he will continue working in Dongxiaokou for a while as he has connections there, China Youth Daily reported.