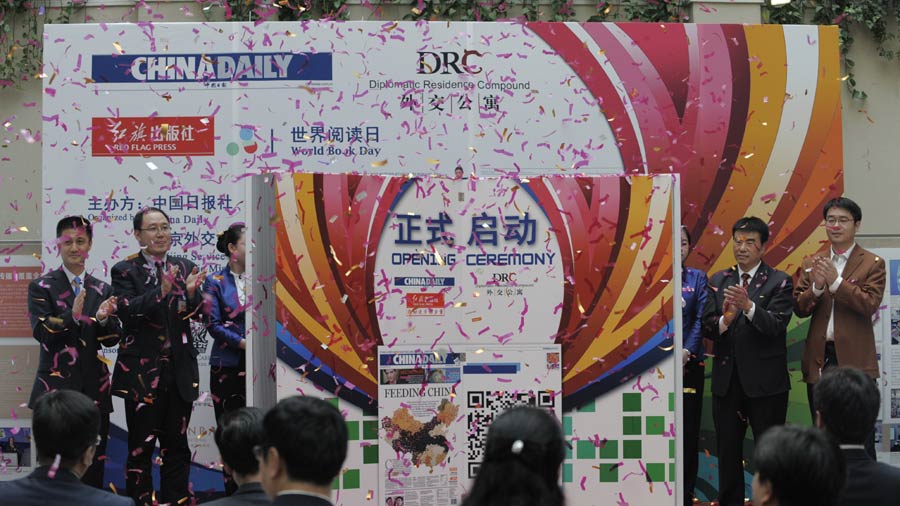 This photo shows participants clapping during the opening ceremony of the "Enjoy Reading, Enjoy Life" cultural charity event in Beijing, April 23, part of the country's activities marking the 19th World Book Day. [Photo by Wei Xiaohao/chinadaily.com.cn]
China Daily, the Beijing Housing Service Corporation for Diplomatic Missions and Red Flag Press jointly launched the "Enjoy Reading, Enjoy Life" cultural charity event in Beijing on April 23, to mark the 19th World Book Day.
The event organizers collected about 100 messages and videos on the subject of reading from people such as Bill Gates, Chinese scholars Yi Zhongtian and Yu Dan, and Chinese pianists Lang Lang and Li Yundi.
Bill Gates said in his message to China Daily: "Reading is how I learn best. More generally, many books tell amazing stories of human ingenuity. It is this ingenuity that helps explain why the world keeps getting better, and why at the end of each year I look forward to the next one with hope and optimism."
Gao Anming, deputy editor-in-chief of China Daily, said at the opening ceremony that although reading in the information age has various meanings and different forms, the goals of reading - to receive information, acquire knowledge, share wisdom and experience life - will not change.
Various activities are scheduled to take place during the event, which will last to the end of the year.