Trust 'key' to boosting Sino-ASEAN ties
By Li Jiabao in Kuala Lumpur ( China Daily )
Updated: 2013-10-06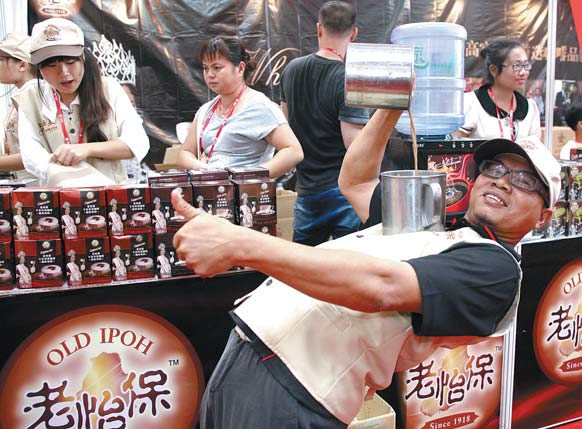 A Malaysian coffee vendor shows off his trademark move at the 10th China-ASEAN Expo in Nanning, in the Guangxi Zhuang autonomous region, on Sept 3. HUO YAN / CHINA DAILY

Given that China and the Association of Southeast Asian Nations are entering a period of enhanced relations amid rapidly growing economic ties, there is an urgent need to build trust in the region, experts said.
"The key thing is building trust. It will enhance the relationship in the region. Once we have trust, it's easy for us to move on," Li Yao, chief executive officer of the China-ASEAN Fund, said during a panel session of the fifth World Chinese Economic Forum, themed "Global Economic Partnerships: Realizing Opportunities, Connecting East & West" in Kuala Lumpur.
The forum was held on Thursday and Friday.
Ong Keng Yong, Singapore's high commissioner to Malaysia and a former ASEAN secretary-general, stressed that peace comes before business and overall peace in the region as well as trust between regional countries should be maintained.
"For relations between China and ASEAN to move on, greater efforts should be devoted to the building of trust. And we should have more cooperation, especially in technology, research and development," he said.
The past 10 years have seen an exponential rise in bilateral trade and two-way investment between China and ASEAN. In 2012, China-ASEAN trade totaled $400 billion, compared with $54.77 billion in 2002. Cumulative two-way investment tripled in the past decade.
China is ASEAN's largest trade partner and ASEAN is China's third-largest. Total trade in the first half of this year rose 12.5 percent to $284.31 billion from a year earlier.
Premier Li Keqiang said at the opening ceremony of the 10th China-ASEAN Expo in early September that China and member countries of ASEAN have the ability to build a "diamond decade".
"We need to upgrade the China-ASEAN free trade agreement to make it more current, as it does not cover elements in ASEAN's later FTAs with other economies," Ong Keng Yong said.
The modernization of the China-ASEAN free trade agreement, which is being discussed, will focus on improving trade while adding investment rules. The move will not only ease procedures for businessmen but also reduce costs in regional trade, he said.
Qu Yingpu, deputy editor-in-chief of China Daily, said in the panel session, "In order to create a diamond decade, we need to properly manage our differences."
Qu said: "If we don't handle the disputes in the South China Sea properly, that will become a challenge for China-ASEAN ties. Tariff and non-tariff barriers within the China-ASEAN framework should be further cut, while the platform of the China-ASEAN FTA should be better used. In addition, the media should play its part in improving China-ASEAN ties."
Regional political conflicts may also dent the internationalization of renminbi, according to Wu Chung-Shu, president of the Chung-Hua Institution of Economic Research in Taiwan.
"China has some political conflicts with other countries in the region, including Japan, Vietnam and the Philippines. It's not easy to resolve them in a short time. Renminbi internationalization is an inevitable trend. But without mutual political trust in the region, the process of renminbi internationalization will be very slow," Wu said.
lijiabao@chinadaily.com.cn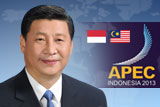 This is a wise strategic move by China and Russia. US had made a big mistake by gathering all the small states around South China Sea area.
Australia must wake up from the American Fantasy and start living the Chinese Dream. Australian culture is more in line with China than America.