Shanghai center to showcase robots
Expo plans to feature machines for dull or complicated assignments
The consumer robotics market is set to have a quick takeoff in China with the nation's first service robot exhibition center scheduled to open in Shanghai by the end of July.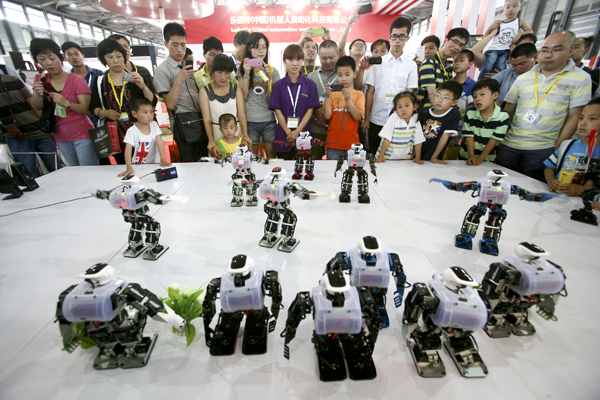 Visitors are attracted to a performance by intelligent robots during the four-day 2013 China International Robot Show, which- opened on Tuesday in Shanghai.
The robots on display in the 110-square-meter hall, located in Shanghai's Putuo district, are designed to assist the young in their learning and give information to visitors at museums and galleries.
Service robots, as opposed to industrial robots that are used in manufacturing, belong to a new category developed for domestic use to carry out repetitive, dull or complex tasks, said Zhang Pen, sales manager at Shanghai Taijing Robot Co Ltd, which will run the center.
"An edutainment robot is endowed with the latest technology and can recognize external images through its sensors, respond to actions and react with body movements. It can be widely applied in education and commercial uses,"Zhang told China Daily at the 2013 China International Robot Show, which opened on Tuesday.
With an average height of 31 centimeters and weighing 1.2 kilograms, robots developed by Taijing can dance, shoot hoops like a professional basketball player and complete other designated tasks.
The center, which encourages engineering technology and mathematics education, will feature an array of displays and presentations that include topics such as programming, electronics and electro-mechanical engineering, Zhang said.
The expo will be open to the public for 10 yuan ($1.63) per visitor, and is expected to attract group visits from primary and middle schools, he added.
Incorporating robotics into education has been recognized as a useful tool to keep students interested and motivated while learning technology-related subjects, and to encourage young minds to embrace a career in science, said Wu Sung-he, assistant manager of Kunshan Gauchen Precision Machinery and Electrical Co Ltd.
Gauchen manufactures robots that can speak, play music, give commands or change direction when they detect obstacles.
Wu's company has a mission to deliver "affordable"and real-world ready robots on the education front, where robotics with programmed curricula are sold to partner middle schools in Wuhan for 8,000 yuan each.
He said that application processors and the array of sensors used in smartphones and tablets have achieved great economies of scale for components, which consumer robotics will leverage.
"We see our robotics package as material for classroom use, for talented programs and club use for after-school programs. For example, our clients can use an accelerometer, a programmed sensor, to navigate a ball through a maze,"said a sales representative from Kunshan Robotechn Intelligent Technology Co Ltd, whose teaching robots are priced at 4,800 yuan each.
Zhang said his company managed to achieve cost efficiency due to imported technologies that are widely applied in overseas markets.
"For instance, the cost for building a dancing robot is around 30,000 yuan. We leased out one robot for 1,200 yuan a day. But when you take into consideration research and development expenses, the figure amounts to 1 million yuan,"he said.