5 missing after floodwaters sink barge in SW China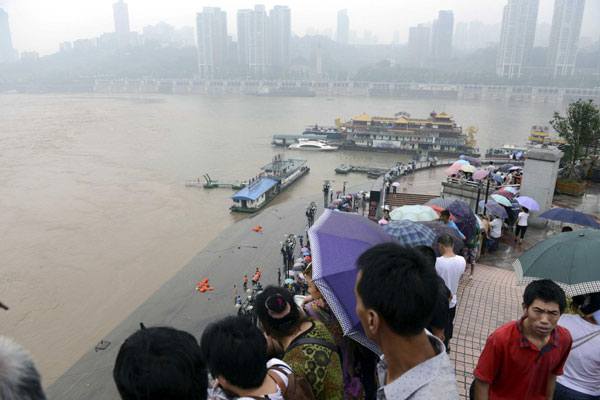 Photo take on July 1, 2013 shows the site where a barge capsized in Southwest China's Chongqing Municipality. The barge capsized around 11 am Monday after a cable that secured the vessel was broken by strong floodwaters. Eighteen people who were on board the ship fell into the water during the incident. Five people including one child went missing.[Photo/Xinhua]
CHONGQING - Rescuers are still searching for five people, including one child, who went missing after a barge capsized Monday morning in Southwest China's Chongqing Municipality, local authorities said.
The barge capsized around 11 am Monday after a cable that secured the vessel was broken by strong floodwaters.
Eighteen people who were on board the ship fell into the water during the incident, the municipal government said.
Seventeen of the people are employees of a local shipping company that owns the barge. The eighteenth person, a child, belongs to one of the employees.
Thirteen of the people have been rescued thus far and the barge has been salvaged and repaired.
Rescuers are searching for the five missing.