Tianjin opens its arms to the world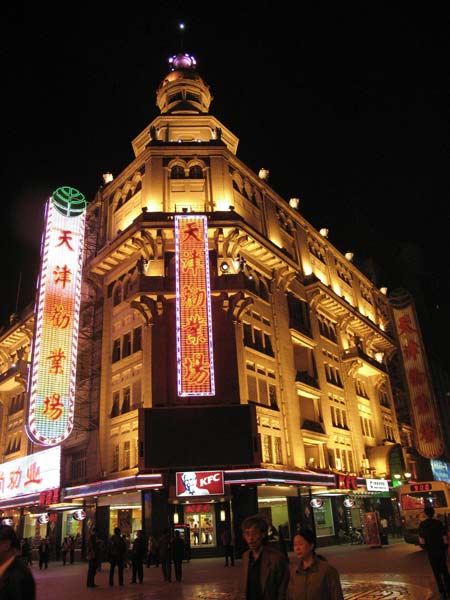 Tianjin Quanyechang Shopping Mall is in the former French Concession. Liu Zhaoming / for China Daily 
Just a short train ride from Beijing lies the city of Tianjin, facing onto the Bohai Sea.
With the Haihe River running through it, Tianjin is an important Chinese city that was established in the Ming Dynasty (1368-1644) and served as an imperial port — with foreign concessions.
The growth of Tianjin's foreign concessions began after the Second Opium War (1856-1860).
The Treaty of Tientsin, signed in the city in 1858 and ratified by the Chinese emperor in 1860, opened the port up to foreign traders who built villas in nine concessions for Italy, Germany, France, Russia, Britain, Austria-Hungary, Japan, America and Belgium.
Neighboring each other along the banks of the Haihe River, the architecture of these concessions were very different to the rest of the city, with a blend of Western and Chinese styles.
The concessions contained both homes and offices for a group of traders, company owners, government officials, the military and even celebrities. And although the concession days have long gone, about 1,000 buildings from that era remain.
Once regarded as something of a humiliation for the country and left to fall into disrepair, today Tianjin has embraced the buildings as a unique attraction of the city, and they have been renovated to attract tourists.
Five-Avenue District: The best-known part of Tianjin's concession area, Five-Avenue contains more than 400 villas, in various European architectural styles. The development of the concession began with Racecourse Road, so named because of a British horseracing club in the area.
From 1919 to 1926 new streets were added to the district and named after British cities. Although the local government renamed most of them after the names of Chinese cities during the 1960s, Racecourse Road retained its original name.
The district was home to many important historical figures and a number of political refugees who moved here after resigning from office in Beijing. Among the foreign residents were the US' 31st president Herbert Hoover, British world champion athlete Eric Liddell and French scientist Emile Licent.