Helicopter crash kills one in SW China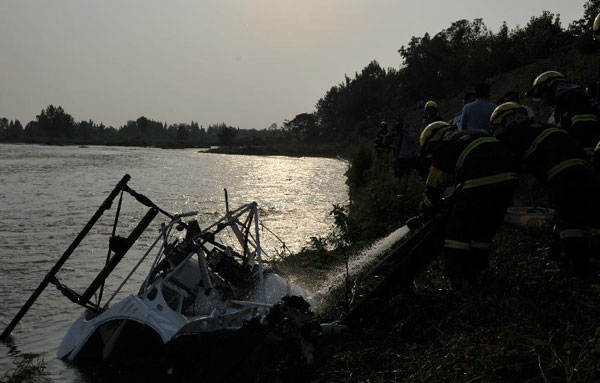 Rescuers work at the site where a helicopter crashed on the Qingbai River in Guanghan, Southwest China's Sichuan province, June 6, 2013. The crash occurred around 5:13 pm (GMT 0913), killing one crew member and injuring the other. The cause of the crash is under investigation. [Photo/Xinhua]
CHENGDU - One person died and another was injured in a helicopter crash that occurred in Southwest China's Sichuan province Thursday evening, local authorities said.
The accident happened at 5:13 pm, when a civilian helicopter crashed near the city of Guanghan, killing one pilot and injuring another helicopter crew member, an official from the city's publicity bureau said.
The chopper was a training helicopter operated by Sichuan Xilin-Fengteng General Aviation Co, Ltd., the official said.
The cause of the accident is under investigation.
On Monday, a police helicopter crashed during a training mission in Northwest China's Shaanxi province, killing two people and injuring another.