A concert in the key of the environment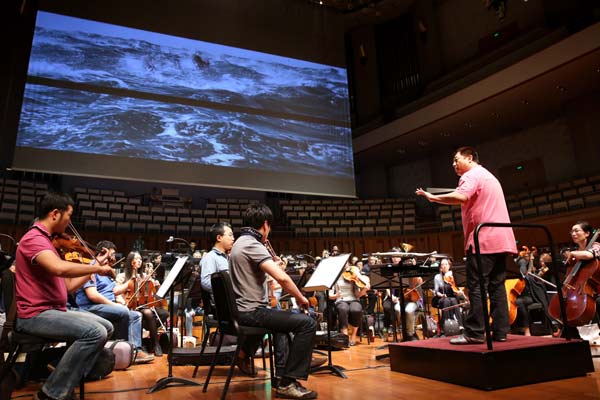 The last rehearsal for the World Environment Day concert, led by renowned Chinese conductor Lyu Jia, takes place at the National Center for the Performing Arts on Wednesday afternoon before a public performance that night. GAN YUAN / FOR CHINA DAILY 
The National Center for the Performing Arts has fine-tuned its call for environmental protection with orchestral music on Wednesday.
Conducted by Lyu Jia, the "World Environment Day" concert featured five commissioned musical pieces, each addressing an environmental concern: urban noise pollution, light pollution, oil spills, endangered species and sinking islands.
The center asked five environmentally conscious composers across the globe to contribute, including Academy Award-winning Rachel Portman. Her piece, Endangered, is inspired by diminishing wildlife and their shrinking habitats.
Lyu said all of the scores are rich in meaning. "Endangered leads you to a funeral scene, then shifts from the macabre to the magnificent, giving you hope at the end.
"Wetland calls for protection of the ecosystem by presenting a desert reborn into a scene of birds and trees."
Mexican composer Enrico Chapela contributed Black Noise, an all-absorbing anti-noise weapon that he envisioned to "take the noise away and turn it into music".
The score is filled with the screeches of knives being sharpened, the rustles of plastic bags and other urban sounds. On stage, the orchestra recreated the noises with domestic waste as well as their usual instruments. "It's not how I usually write, but it feels right this time," the composer said at the press release.
"We have been preparing for this concert for more than two years now," said the center's Vice-President Wang Zhengming. "Music is our strong suit. We want to raise awareness with what we can do. "
Lyu, the conductor, said linking and raising awareness of social issues with music is "a must" for him and his orchestra. "It's an honor for us to do the concert," he said.
All of the music was accompanied by video documentaries that feature the environment's current state.
The Ministry of Environmental Protection, the center and other partners have also enlisted the help of local school children, who painted the event programs.
"We hope the younger generation will remember this in their hearts," Wang said. "People, music and the earth are indispensable to one another. "