Top advisor stresses curbing extremism in Xinjiang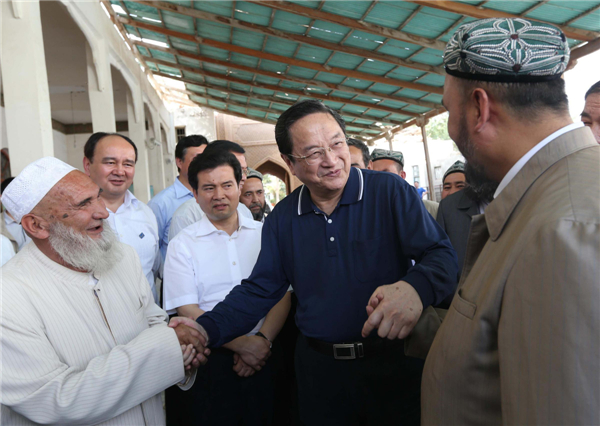 Photo taken on May 23, 2013 shows Yu Zhengsheng (C), a member of the Standing Committee of the Political Bureau of the Communist Party of China (CPC) Central Committee and chairman of the National Committee of the Chinese People's Political Consultative Conference, visits religious people at a mosque in Gulbag of Hotan city, Northwest China's Xinjiang Uygur autonomous region. Yu paid an inspection tour in Hotan, Kashgar, Yili and Urumqi of Xinjiang from May 23 to 28. [Photo/Xinhua]
URUMQI - During his tour of Xinjiang, China's top political advisor stressed containing the growth of religious extremist elements and maintaining a high intensity in the fight against terrorist activities.
The tour took Yu Zhengsheng, chairman of the National Committee of the Chinese People's Political Consultative Conference, to Hotan, Kashgar, Yili and Urumqi in Northwest China's Xinjiang Uygur autonomous region from May 23-28.
Visiting villages, companies, schools, police stations, a border port and a mosque, Yu called for greater efforts in improving people's living conditions and promoting ethnic solidarity and social harmony.
To facilitate the region's economic and social development and long-term stability, he urged local authorities to fully implement policies that the central authorities have prescribed for Xinjiang.
During the visit, Yu held meetings on safeguarding social stability with local government workers and people from religious circles.
In addition to measures to encourage more religious believers to contribute to Xinjiang's development and stability, he demanded effective measures be put in place to contain the breeding and spreading of religious extremist elements.
"Meanwhile, we should maintain a high intensity in fighting violent terrorist activities in accordance with the law," he said.
Yu also paid a special visit to Bachu county, Kashgar prefecture, where he relayed the central authorities' condolences to the survivors and family members of those who died in a deadly clash with a group of alleged terrorists on April 23.
Describing employment as a key aspect concerning both public well-being and social stability in Xinjiang, he called for more support for vocational training and the growth of labor-intensive industries.
Yu also urged efforts to improve ethnic minority language-Mandarin Chinese bilingual education environments at local schools, thus fostering communication among different ethnic groups.
Noting that the fundamental means for Xinjiang to realize stability and prosperity is through economic and social development, Yu urged efforts to quicken the development of specialty industries while protecting the environment.