China, US pave way for Xi-Obama summit
BEIJING - Chinese President Xi Jinping said his upcoming talks with US President Barack Obama will feature discussions on important and strategic issues.
"I look forward to meeting with President Obama in California in June," Xi said at the start of his meeting with US National Security Adviser Thomas Donilon on Monday.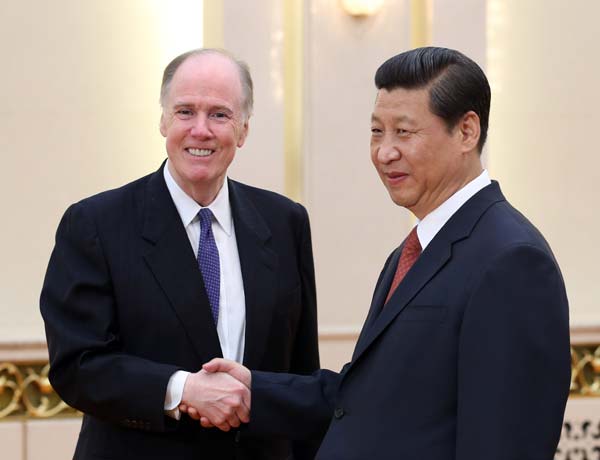 Chinese President Xi Jinping (R) shakes hands with US National Security Adviser Thomas Donilon before their meeting at the Great Hall of the People in Beijing, May 27, 2013. [Photo by Wu Zhiyi/China Daily]
Xi thanked Donilon for coming to Beijing to "prepare for my meeting with President Obama."
The Xi-Obama summit, the first of its kind since both nations carried out their most recent leadership transitions, is scheduled for June 7-8 at Walter and Leonore Annenberg's Sunnylands estate in Rancho Mirage, California.
In his meeting with Donilon, Xi said China-US relations are now at an important stage connecting the past and the future.
Xi recalled a telephone discussion with President Obama on the day Xi was elected president of China, saying they reaffirmed their commitment to developing China-US cooperative relations and exploring a new type of relationship between big powers.
"I am convinced that with joint efforts the upcoming summit will make positive progress and inject a new vitality into bilateral relations," Xi said.
Donilon said the Obama-Xi summit will be an important opportunity for the two countries to discuss bilateral relations and regional and global issues facing both countries.
Donilon said President Obama has reaffirmed his firm commitment to "building a US-China relationship with higher level practical cooperation, higher level trust, and managing whatever differences and disagreements arise between the two countries."
Earlier on Monday, Chinese State Councilor Yang Jiechi also held talks with Donilon.