Vessel to strengthen emergency rescue
China's largest patrol and rescue ship Haixun 01 officially joined the Shanghai maritime authority on Tuesday morning, and authorities said it will strengthen the country's ability to perform emergency rescues and monitor ocean pollution.
"It will mainly cover inspection and rescue duties in the East China Sea but is also on call nationally for emergencies," said Zhai Jiugang, deputy director of the maritime safety administration.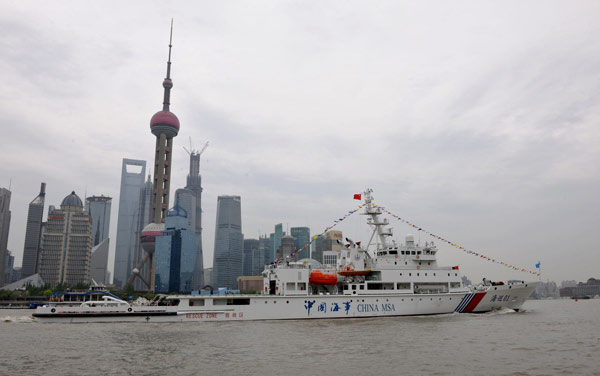 China's largest patrol and rescue ship Haixun 01 is officially put into use on Tuesday morning in Shanghai. [Photo/Xinhua]
Haixun 01 is equipped with a helipad to allow airborne searches and rescue missions. "The vessel, which can also be regarded as a helicopter carrier, makes it possible to expand the cruising range for search and rescue," Zhai said, adding that it's the country's fourth patrol ship with a helipad.
The 128.6-meter-long, 5,418-ton vessel, which has a maximum sailing distance of 18,520 km without refueling, is expected to be put into service shortly after Tuesday's ceremony.
Helicopter commander Zhang Yong said the aircraft that the maritime authority used for Tuesday's ceremony came from Guangdong province and stopped in Xiamen and Wenzhou for refueling on its way to Shanghai.
"We could save some time with the help of Haixun 01 as a carrier in the future," he said. Zhang said the helicopter is designed to fly for two and a half to three hours on a full tank of gas.
In addition to carrying out rescue missions, the vessel is also able to tow ships as heavy as 100,000 tons as well as put out fires on other boats.
"It (the Haixun 01) improves the standard of China's maritime administration equipment and is conductive to ensuring China's maritime transport safety, search and rescue abilities as well as protecting the maritime environment," said Xu Guoyi, head of the Shanghai Maritime Bureau.
Xu said Haixun 01 is the largest and most advanced Chinese patrol vessel and its missions will include oil spill detection and gathering evidence.
"I once took photos in the air from my helicopter of a South Korean ship with 7,000 tons of concentrated sulfuric acid and 140 tons of fuel, which sank in waters off Guangdong province in March 2012," Zhang said. "We filmed the sulfuric acid and fuel leak and collected it as evidence to control maritime pollution."
Haixun 01 is also equipped with a radar observation system that can detect oil spills and "follow and directly talk to the oil spill ship", said Zhang Yanping, a shipbuilder from Wuchang Shipbuilding Industry Co Ltd, which built the Haixun 01.
Zhang, who came to Shanghai along with Haixun 01 from Wuhan in December, traveled on the ship during its trial voyages this year. "The first one was about the vessel's basic performance such as its speed and the second trial tested its dynamic positioning, navigation system and automatic pilot," he said.
Scheduled to depart from Shanghai on May 26, Haixun 01 will embark on its first trip abroad to Sydney and Cairns for the Asia maritime summit, said Xu Guoyi, head of the Shanghai Maritime Bureau. Some joint search and rescue operations will be conducted during the trip.
"It will also visit Malaysia and Indonesia on the way to Australia," Xu said.