Shanghai car plate auction hits new highs
The cost of a car license plate hit a record high at an auction in Shanghai on Saturday, skyrocketing to more than 90,000 yuan ($14,480), despite municipal government efforts at regulating the market.
The Shanghai government said that the price of a secondhand car plate should not exceed the auction price of new car plates, nine days before March's car plate auction on Saturday, blaming the rising price of secondhand plates for pushing up the new prices.
That move, which took effect on Saturday, was one of four new measures to fight against speculation and curb the surging price of plates.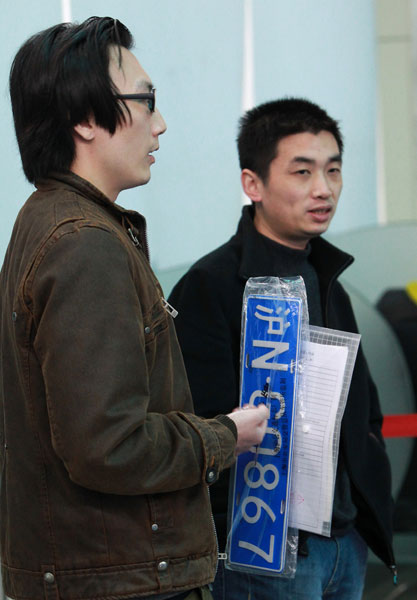 A Shanghai resident registers his license plate at the city's vehicle management bureau on Saturday. PEI XIN / XINHUA 
Saturday's result, however, surprised both bidders and car dealers as the average successful bid soared to 91,898 yuan — the ninth consecutive month plates have hit record highs.
Shanghai Commodity International Auction Co also said that even March's lowest price reached 90,800 yuan, an increase of 7,500 yuan on the previous month.
Despite being successful in winning a plate, 28-year-old Chen Ji said the government's efforts at cooling prices were laughable.
"It's just lip service. Officials know that Shanghai's car plate prices are too expensive. What we got (during this month's auction process) was a stupid reminder of the government saying 'please offer a rational bid'," said Chen, who failed in last month's auction, and spent 92,500 yuan on her new plate this month.
"There's no way that I could have won the plate if I had followed that thought-process," she said.
According to Chen, the upgraded (car plate bidding) system requested bidders to input verification codes at least three to four times after they submitted a new bid, which delayed the whole process.
Chen said many of the bidders waited until the last 40 seconds before inputting their identifying codes, which resulted in failed auctions.
Shanghai native Zhang Xingliang said he had gathered a dozen friends from a 4S shop — after-sales operations attached to car dealerships in China — to help him bid for a plate, in an attempt to block some experienced bidders from winning plates, although all of them failed to actually get a plate.
Zhou Wenchao, a salesman from a Shanghai car dealership, said the prices were a surprise, but that bidders clearly came with the mentality that they had to bid high, to have any chance of submitting a winning bid.
"Like many people I thought prices would fall, after all of those discussions about the new policy," said Zhou, who has been working for the local dealership for a couple of years.
He added his company had forbidden its staff from purchasing car plates for their customers starting this month, and that they are also no longer allowed to offer clients an estimated bidding price in order to avoid any accusation of "pushing up market prices".
Zhou said that although the new policy of prohibiting secondhand car plates being sold for more than the latest average price of a new one is supposed to deter speculators, it has loopholes.
"Scalpers can easily mark a relatively low price to get rid of a secondhand plate but charge you more privately — they just need to do it off the record," he said.
Shanghai's increasingly expensive and scarce license plates have attracted huge public attention.
Xinhua quoted former Shanghai Party chief Han Zheng during the recent two sessions as saying: "I agree that car plates (in Shanghai) are too expensive.
"If we want to keep prices in line, we have to grant more license plates."
"At present, Shanghai releases 9,000 plates each month. We hope to do the job better through enhanced supervision and improvements to the system."
Saturday's figures showed that the percentage of successful bids rose in March to 38.2 percent from last month's 36.5 percent, even though the supply of car plates remained unchanged at 9,000.
Shanghai's deputy mayor Jiang Ping has vowed to introduce new policies to cool down the market, if the existing ones failed to make an impact at this month's auction.
The new policies include reserving new car plates for new cars only and organizing separate auctions for individual and corporate participants.
shiyingying@chinadaily.com.cn