More funding urged for school security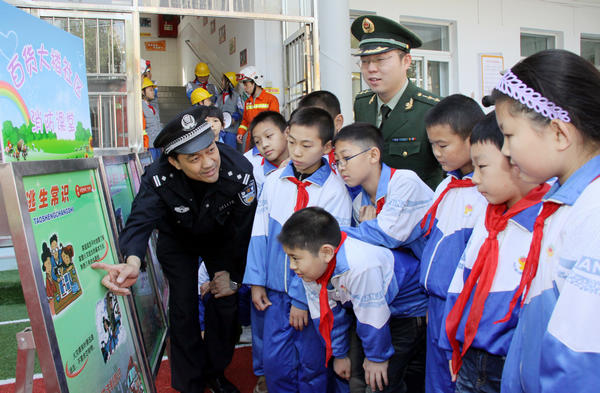 A police offi cer and an offi cer from a local fire brigade teach students at a primary school in Tianjin how to escape a fire. [WU DI / FOR CHINA DAILY]
Schools say they are struggling to find enough money to improve their security measures, including the hiring of guards, following a series of brutal and even deadly attacks on children by intruders.
A government directive in January instructed schools and kindergartens to hire at least one full-time guard to handle any potential threats.
In 2011, the Chinese government invested 1.68 trillion yuan ($270 billion) in education, 25 percent more than the previous year.
In December, Wu Guosheng, director of the Department of Finance at the Ministry of Education, published a speech on the ministry's website that urged schools to improve their financing and accounting systems.
But in January, top law enforcement officials announced the security guard requirement, without specifying who must cover the cost, People's Daily reported.
The requirement came amid a campaign to improve campus security in light of the most recent attack, in which a principal and student were killed at a primary school in Shangmei township in Hunan province.
Shi Xuehua, a professor of politics at Beijing Normal University and a member of a social safety consulting committee at the Ministry of Education, called on the government to increase spending on campus safety, especially in rural areas.
"These improvements need money, including funding for equipment and training," Shi said.
The details of the January attack in Hunan shocked people across the country.
The 59-year-old school principal was killed trying to save a third-grade student from a male attacker who entered the school by scaling a fence. He attacked the student during a physical education class in the playground. The child later died in a hospital.
The school did not have any security guards.
A month earlier, in Guangshan county, Henan province, 23 primary school students were injured by a 36-year-old villager with a knife. In September, in Pingnan county, the Guangxi Zhuang autonomous region, a 25-year-old man attacked a lunchtime care center near a school, killing three primary school children and leaving 13 injured.
Ma Guanghui, the principal of Mengda Baojie Primary School in Xunhua Salar autonomous county in Qinghai province, told China Daily the school can't afford to employ security guards because "we don't have the money, unless the education commission can give us funds", adding that the school still owes salaries to teachers.
Mengda school is near a reservoir, but after being damaged by floods in December, it had to move to another temporary site nearly 15 km away.
The school has spent 2,000 yuan a year — nearly 10 percent of its annual budget from the local education bureau — on mending its bamboo and wooden fences to stop intruders.
"But all the students have to board at school now, and I am worried that we cannot do anything more to protect them except tell parents that we have moved, and tell students that they have to take care and be aware," Ma added.
Shen Jinhua, principal of Tongxin Experimental Primary School in Beijing, a school that caters to children of migrant workers' families, said that having security guards does not guarantee safety and a lot more needs to be done to improve the security of children at schools across the country.
"Security guards cannot manage everything 24 hours a day," Shen said.
Her school employs two security guards, and during peak hours in the morning and afternoon, two staff members from the management team are also on duty at the main gate, "greeting students and observing passers-by".
Shen said staff members are familiar with students and their parents, making them alert to any strangers.
Tongxin Experimental Primary pays for the safety guards, and safety education including regular fire drills is paid from the school's own budget instead of extra government funding.
Shen added that in 2010, when Beijing authorities last announced plans to target campus crime, they offered tips to schools on how they might best do that.
"The police listed possible dangers for us, and offered advice on identifying suspicious people, and they warned parents, teachers and students of other possible issues and dangers.
"It was effective help in how to reduce campus crime."
She also believes safety education and communication with parents and students are key to reducing the danger.
One example of advice from police was that only a parent should be allowed to pick up a child from school.
If parents were having personal problems — for instance, if they had quarreled with anyone — then people at the school should be alert to that, if it was a potential risk.
"If teachers are made aware of that kind of situation, then they can be alert to any dangers," added Shen.
Shi Xuehua from Beijing Normal University agreed that giving more safety education to teachers, students and parents can effectively reduce potential danger.
Sun Xiaobing, director of policy and regulation at the Ministry of Education, said during a Web chat in January that the education authorities will be writing campus safety measures into law in the future, and increasing safety education among teachers, students and families.
However, Shen, from Tongxin, said she isn't convinced that campus safety will be given the emphasis it needs.
"There is no panacea for campus safety," Shen said.
"I am grateful that our school hasn't had any serious incident so far, but if tragedy did strike, I know our defenses are not as strong as we think they should be," she added.
Shi, from Beijing Normal University, added that one solution might be for schools to appoint safety officers from the students and teachers to be responsible for specific safety issues.
"It is important to build some kind of system. A school principal is not a 'superman' who can be responsible for everything."