Sansha taking shape with projects
Infrastructure to lead development of young city
Sansha authorities vowed to accelerate the construction of infrastructure and a series of projects that were expected to be finished this year.
"Within the year, we will finish the operation of the first phase of the new port of Yongxing Island, a seawater desalination plant, a sewage treatment plant and a garbage collection and transfer system," Xiao Jie, mayor of Sansha, said at the annual session of the Hainan provincial people's congress on Sunday.
The desalination plant, approved by the provincial development and reform commission, will process 1,000 cubic meters of seawater a day, supplying fresh water to nearby islets, reefs and ships.
A new supply ship, the Sansha No 1, will be completed in early 2014 to help transport much-needed materials to the island, Xiao added.
The ship will be 120 meters from bow to stern, 20 meters wide, and have a displacement of 8,100 metric tons.
The projects will benefit the city's environment and help maintain sustainable development, Xiao said.
Xiao declined to disclose the total investment in Sansha's construction in 2013, but the city's first 28 infrastructure projects cost nearly 24 billion yuan ($3.81 billion), the Sansha government said in September.
"Sansha is entering a period of booming development that is being closely followed by the country and the Hainan government," said Wu Shicun, director of the National Institute for South China Sea Studies.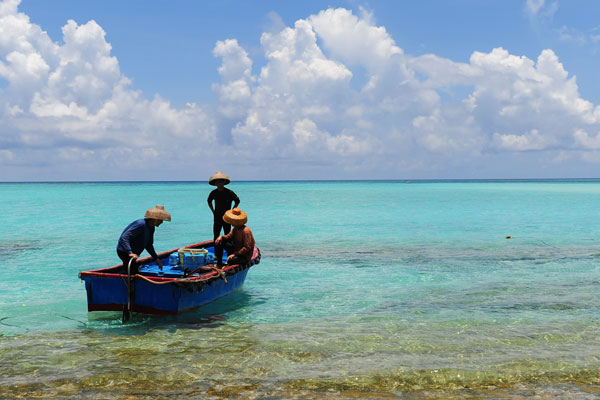 Fishermen work near China's Xisha Islands in the South China Sea in May 2012. HOU JIANSEN / XINHUA