Fears over intellectual property rights will not derail China's exports of bullet trains, as the technology is home-grown, the vice-minister of science and technology said as he dismissed as "nonsense" copycat claims by a Japanese company.
The country had developed its own version of high-speed technology through years of innovation, Cao Jianlin said in an exclusive interview.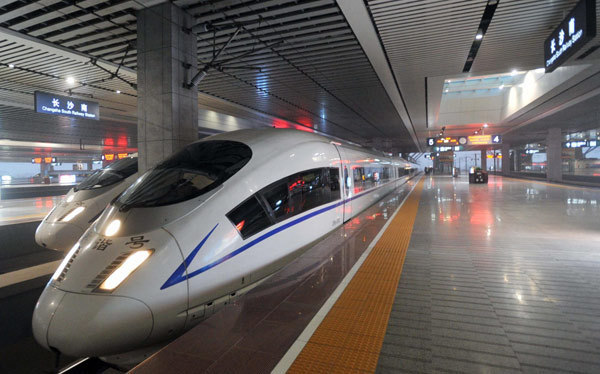 The G502 high-speed train departs from the Changsha South Railway Station in Central China's Hunan province on Dec 26, 2012. The train is on the new Beijing-Guangzhou high-speed rail route. [Photo/Xinhua]
Cao also encouraged Chinese companies to file for patents overseas.
China's high-speed rail industry has been booming since 2004, and Cao said the sector "will further research patent strategy and the global IPR situation to better understand the laws and policies of countries they export to".
His comments come after Kawasaki Heavy Industries suggested China had not developed its own high-speed technology.
The Japanese company teamed up with CSR Sifang, which then produced China's bullet trains after the Ministry of Railways launched a bidding process to build a high-speed network. Purchasing contracts and technology transfer agreements were signed with Chinese counterparts.
Other global companies, such as Siemens of Germany, Alstom of France and Canada's Bombardier, also signed the contracts and agreements.
"China says it owns exclusive rights to that intellectual property, but Kawasaki and other foreign companies feel otherwise," the Japanese company said in a statement quoted by The Wall Street Journal.
The statement added that Kawasaki was looking to solve the issue through talks.
"We did buy trains that could travel at 200 kilometers per hour from Kawasaki, but the purchase was based on legitimate contracts," Cao said.
"Chinese companies paid technology transfer fees according to the contracts, so it is nonsense to accuse China of copying their technology."
Kawasaki constructed the Shinkansen, Japan's bullet train. However, like other manufacturers, a drop in global demand prompted the company to look at overseas markets.
"If Kawasaki really believes China copied its Shinkansen technology, it should have sued the Chinese companies, instead of complaining to the media," Cao said. "Maybe the company did not expect China's high-speed railway to grow so quickly, making the country a world leader."
Based on the transferred knowledge, China's scientists developed a wide range of technologies, including system integration and component parts, the vice-minister said.
Before 2005, China had few patents relating to high-speed trains. The numbers soon started to increase and in the first half of 2012, 163 patents were registered in China. Of these patents, 90 percent were held by Chinese companies with German, Japanese, French and US companies making up most of the balance, according to Cao.
Related photos
Photos: High-speed rail ready for travelers