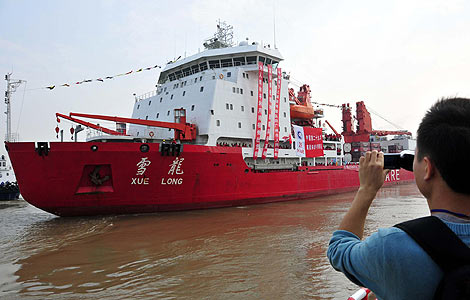 Chinese icebreaker Xuelong leaves a port in Guangzhou in South China's Guangdong province.[Photo/Xinhua]
The Xuelong, a Chinese icebreaker, embarked on the country's 29th Antarctic expedition on Monday from Guangzhou in South China's Guangdong province.
News of the vessel's departure came from the Chinese Arctic and Antarctic Administration.
The expedition is expected to last 162 days, involving a voyage of nearly 50,856 km with 39 scientific research projects arranged. The Xuelong is scheduled to arrive in Shanghai in early April.
The administration said the 241-strong expedition team will also take supplies to the country's Antarctic stations and select a site for the nation's fourth Antarctic station.
Meanwhile, China's new icebreaker for polar expeditions is expected to be delivered in 2014.
A design contract was signed with Finland-based Aker Arctic Technology in July and a construction contract with the China State Shipbuilding Corporation in October.
Since 1984, Chinese scientists have staged expeditions every year to three Antarctic stations – Great Wall Station on King George Island, Zhongshan Station in the Larsemann Hills and Kunlun Station on Dome A, the highest place in Antarctica.