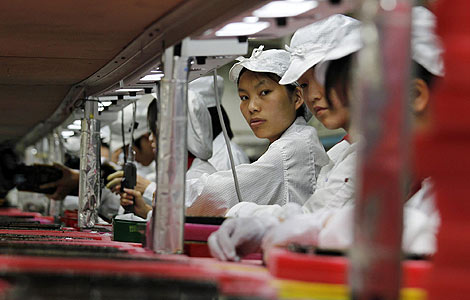 Workers are seen inside a Foxconn factory in the southern Guangdong province in this May 26, 2010 file photograph. [Photo/Agencies]
YANTAI, Shandong - Students from vocational schools in east China's city of Yantai are returning to their classrooms following a Tuesday apology from Foxconn, a major electronics manufacturer that hired the children to work as interns.
A spokesman from the Administration Committee of Yantai Development Zone said Wednesday that 56 underage interns would be picked up by school employees to bring them back to their schools.
Foxconn, the largest supplier of Apple Inc., said in a Tuesday statement that it carried out an internal investigation at a factory in Yantai and found that it had employed underage interns ranging in age from 14 to 16 for about three weeks.
Foxconn spokesman Bruce Liu said Wednesday that the statement was an "apology to the underage workers and their parents."
The administration committee's spokesman, who declined to be named, said Wednesday that negotiations between the city government and Foxconn will allow interns above the age of 16 to discontinue their internships after filing an application to do so.
Some of the children said their internships were supposed to last from one to three months. The children are paid less than 2,000 yuan per month for their work, much less than the factory's adult workers.
The children said they engage in the same work as the adult workers, laboring on production lines and helping with distribution.
"The workers are working against the clock to produce Nintendo Wii gamepads, as the company has been trying to catch up with its orders. It is common for us to work overtime," said one of the students.
Liu said the incident is an individual case and has not occurred in any other Foxconn factories on the Chinese mainland.
"Foxconn is expanding its manufacturing ability on the mainland. The company cooperated with vocational schools with the help of local authorities to hire student interns to work in some of Foxconn's factories in order to solve occasional labor shortage issues," Liu said.
Foxconn said in its statement that approximately 2.7 percent of its workforce of 1.2 million people on the Chinese mainland are interns.
Chinese Labor Law refers to workers below the age of 16 as child laborers. Employers can be fined or have their business licenses revoked for illegally hiring child laborers, according to the law.
The underage workers were among thousands of students sent from vocational schools in Yantai to the factory after Foxconn turned to the Administration Committee of the Yantai Development Zone for help in solving a severe labor shortage that occurred in September, when the company reported a shortage of 19,000 workers.
Foxconn's Yantai factory is one of the company's eight major production bases on the Chinese mainland. The factory went into operation in 2004 and produces PCs, mobile phones and video game consoles.
By 2011, the company had realized an output value of 109.6 billion yuan (17.5 billion U.S. dollars), ranking first among all overseas-funded firms registered in east China's Shandong Province.
In contrast to the export plight currently suffered by many Chinese manufacturing firms amid the eurozone debt crisis, Foxconn's production has been increasing, with 32 production lines recently added to help the company keep up with its orders.
Foxconn and Apple have been facing a media and public backlash after a series of suicides and labor abuses occurred in Foxconn factories over the last couple of years.
Local authorities have also been blamed for putting the company's interests above others by providing favorable land use policies and helping the company recruit cheap labor.
In one case, township officials in central China's Henan province were given hiring quotas by their superiors, as they were expected to recruit rural residents to work in a Foxconn factory in the province, with their work performance judged accordingly.
Shi Pu, a professor with the Henan University of Economics and Law, said Foxconn has been given the "supernational treatment" because it has been a prominent contributor to local GDPs through the establishment of its factories.