Fan Meng knows all about pushing himself — and his mother, who has polio — all the way.
The 26-year-old Beijing man has just completed a 96-day, 3,360 km journey, pushing his 53-year-old mother, Kou Minjun, in a wheelchair from the Chinese capital to Xishuangbanna in Southwestern China's Yunnan province to give her a taste of leisure travel with a difference.
Using a smartphone to navigate, declining free rides along the way and even traveling with their pet dog, the pair arrived in Xishuangbanna on Friday, enjoying a warm welcome from locals.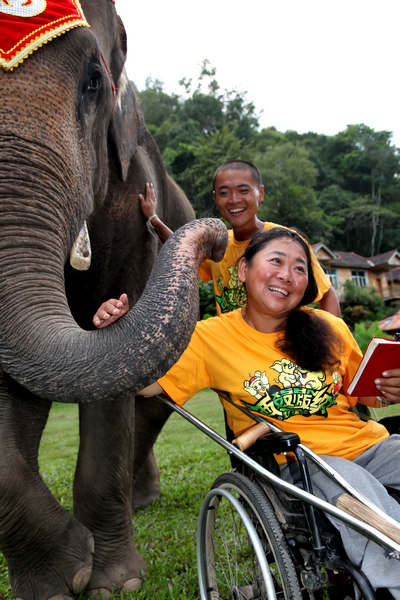 Fan Meng and his mother have a close encounter with an elephant in a park at Xishuangbanna, a popular tourism destination in Yunnan province, on Sunday. Dai Zhenhua / for China Daily 
"Polio has prevented my mother from going to places she has been longing to visit and I wanted to make her dream come true in this unique way," Fan said.
His initiative, underscoring the responsibility to "take one's parents traveling frequently" as proposed by the central government in the New 24 Paragons of Filial Piety this year, earned him widespread admiration and acclaim. But Fan simply shrugged it all off.
"I don't think of myself as a filial son. It's something that I bet all sons would love to do for their mothers," he said.
"There are many ways to express your gratitude to your parents, and I'm delivering it on my feet."
Apart from realizing his mother's dream to travel, Fan also benefited, losing about 20 kg during the journey. But the trip brought him more than a new figure.
"I gradually gained a state of inner peace and inner strength in myself," said Fan, who used to be fractious and bad-tempered. "Walking all the way ... has instilled me with a calmness that nothing can shake. I simply want to find out whether I have enough determination and resolution, and the answer seems to be positive."
Fan, a former e-commerce company employee, has been escorting his mother in a wheelchair for shopping and family visits since boyhood.
On a scorching summer afternoon in July he came up with the idea of quitting his job and pushing his mother a little bit further.
He put the idea to his mother, who immediately agreed and after days spent packing luggage and collecting information the pair set off.
Kou said: "I had never been to Xishuangbanna but had seen it on television."
Fearful that objections from his father and brother might halt their travel plans, Fan did not tell the other two family members of the trip.
It was not until the afternoon of July 11, when Fan set off with his mother and the dog, pushing the wheelchair and carrying a heavy bag, that his father and brother realized the trip was on. "They were surprised at first but nothing could be changed by then," Fan said.
His brother caught up with the pair in Hebei province, 10 days after they left, and handed over clothing and food. However, his offer to visit the two later, especially after being told that his mother had a sore back, was rejected.
In addition to their tent, Fan and his mother stayed in cheap hotels.
The total cost of the trip, mainly covering food and accommodation, was less than 8,000 yuan ($1,280), way below Fan's budget.
Before they left, Fan anticipated, as much as he could, any problems they might encounter during their journey, including sunstroke, extreme weather, trauma, injuries — even a clash with hooligans.
"In addition to the tent, food and other daily supplies, I also brought along a medical kit in case of emergencies and a dagger for self-defense," said Fan.
The pair came to no harm, he said, but the trip was not without its obstacles.
"I never imagined that some national roads had been needing repairs for years. This made it arduous to walk on them for long, let alone push a wheelchair with mother sitting in it, as well as all the luggage on my back," he said.
Sometimes they had to halt the trip because of a broken wheel or flat tire caused by bad roads.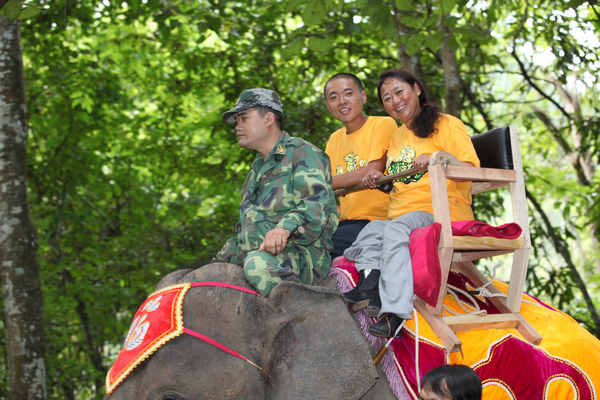 Fan Meng and his mother ride an elephant in a park at Xishuangbanna, a popular tourism destination in Yunnan province, on Sunday. Dai Zhenhua / for China Daily
"I have repaired the wheelchair some 20 times in the past three months," said Fan.
The task became so familiar to him that it became extremely easy.
Also, the GPS on his smartphone did not always steer him to the right direction and the pair sometimes found themselves left stranded and helpless.
In addition to tough road conditions and loss of direction, Fan had to pay close attention to his mother's physical condition, which he said was the biggest challenge during the trip.
"Mom easily gets tired or has a sore back as she has to sit for hours," he said.
But after more than three months on the road, the intrepid travelers arrived in Xishuangbanna.
"The joy is simply beyond words when you finally set foot, and wheels, in the field of dreams that you have been striving to reach for so long," Fan said.
Despite having no detailed plans to tour the city and places of interest in neighboring cities, friends that Fan met on the Internet were quick to come up with suggestions.
"I have received invitations from many friends that I know on Weibo, who offered to show me around their hometowns," he said.
On Sunday the pair arrived at a park in Xishuangbanna and were greeted by elephants and local residents.
Fan said he will find another job when he returns to Beijing, but this does not mean he is ready for a normal life. "I need to save enough money for my second adventure," he said.
"I don't know when or where I'll head and what challenges I will face," he said. "But one thing I'm positive about is that I can always strike an emotional balance within myself and a more intimate bond with my mother during the hiking, which is enough."
zhengxin@chinadaily.com.cn