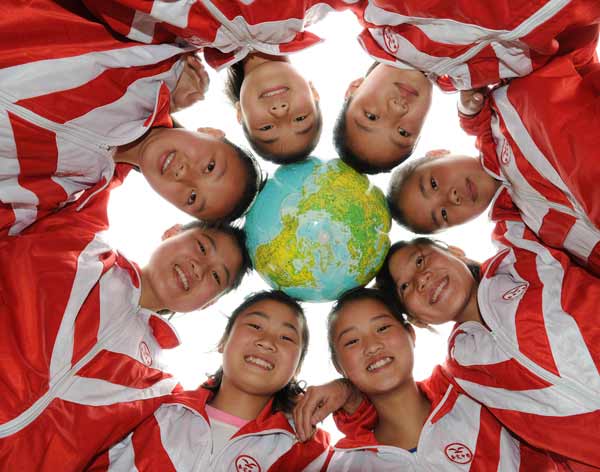 Students hold up a globe during an activity to raise awareness of environmental protection ahead of "World Earth Day" on April 22 at a middle school in Dexing, East China's Jiangxi province, April 20, 2012. [Photo/Asianewsphoto] 
BEIJING - A paper released on Thursday concerning the development of environmental protection in 2011 said action taken by the Chinese public became a major force in the drive amid several environmental disasters.
Friends of Nature (FON), a Beijing-based environmental protection organization, released the annual paper, its seventh so far.
The paper noted that public action taken last year helped to strengthen environmental protection, as the public's participation played a role in damage prevention.
"Last year, residents in Beijing and other large cities started to use the PM2.5 air quality standard themselves. After public pressure mounted, many cities started to issue monitoring reports using the PM2.5 standard themselves," said Yang Dongping, FON's director-general and a professor at the Beijing Institute of Technology.
"PM2.5" refers to an air quality standard that allows for the detection of particulate matter with a diameter of 2.5 micrometers or less. The standard became a buzzword almost overnight after reports of citizens using the standard to gauge Beijing's air quality were published in the media.
The Chinese government did not previously use the PM2.5 standard in its air monitoring efforts, opting instead to use the looser PM10 standard. But this year, Premier Wen Jiabao said in an annual work report that the country would start using the standard in all provincial capitals and major cities.
"Apart from action taken by the government and companies, more and more citizens are beginning to participate in environmental protection," Yang said.
FON listed ten major cases or incidents in which the public played a key role in protecting the environment.
The list included, aside from the public's awareness of PM2.5, a public demand for an apology from U.S. oil company ConocoPhillips after it failed to properly clean up severe oil leaks in Bohai Bay, and consumers asking Apple to address pollution issues concerning its Chinese suppliers.
But some experts still have concerns.  Li Dun, a professor at Tsinghua University, said that despite increasing participation by the public, most people remain in a weak position in terms of influencing policymakers who are dealing with environmental issues, adding that open discussions on environmental protection are still relatively scarce in the public sphere.
The FON paper also painted an alarming picture of the environmental challenges facing China, such as poorly regulated refuse disposal in urban areas and a failure to conserve water in large cities.
The paper said the amount of refuse in China's cities amounts to about 7 billion tonnes, adding that refuse output has been increasing annually by 10 percent as a result of increased migration to urban areas.
The paper said golf courses in Beijing, one of the world's driest cities, use up to 40 million cubic meters of water annually, enough to satisfy annual water demands for 1 million residents.