A bit hard to ride for officials
Updated: 2012-03-02 07:38
By Zhao Ruixue and Wang Huazhong (China Daily)
| | | | | | | | | | | |
| --- | --- | --- | --- | --- | --- | --- | --- | --- | --- | --- |
|   | | Comments() | | Print | | Mail | | Large Medium  Small | 分享按钮 | 0 |
PINGYIN, Shandong - As roads become increasingly jammed with polluting traffic, government officials are trying to set a good example by returning to the kingdom of the bicycle.
But going back to two wheels is proving as difficult as actually reversing on them in some cases.
The small county of Pingyin in Shandong province has been testing the use of "official bicycles" to cut exhaust emissions and government expenditure for almost a year. Yet the bikes seem to have remained parked in garages for most of the time.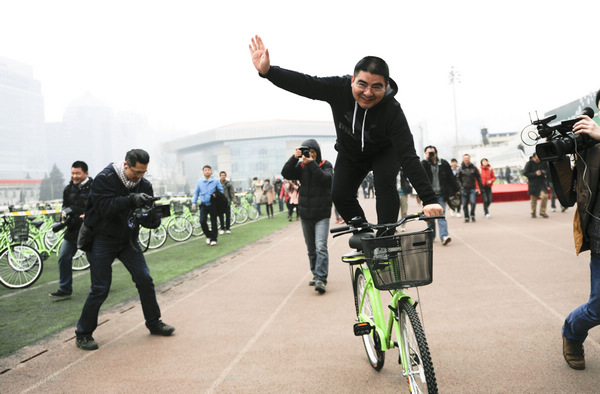 Businessman and well-known philanthropist Chen Guangbiao shows his moves on a bicycle in Yuetan Stadium in Beijing on Thursday. Chen provided 2,000 bikes free of charge to schools and communities in a campaign to promote a low-carbon lifestyle. [Liao Pan / China News Service]
One day recently at the county government building, 20 bikes for officials were standing neatly lined up and locked in racks. Dust covered the saddles and the tires still had their tiny rubber nodules. They looked like they had hardly been used.
Lian Yubo, an organization management official with Pingyin government, said the result of the cycling initiative had been "fairly satisfactory" but more use of the bikes could be made to be eco-friendly.
"Government leaders in the county cycle when they have time. The most frequent users are ordinary government staff aged between 20 and 40," Lian said.
In April, the county allocated 300 pedal bikes and 100 electric bikes to 32 government departments. Two companies sponsored the initiative.
In 2010, the Shandong provincial government provided 100 bikes for its officials.
These "green government" moves have now been endorsed by the country's economic planner.
The National Development and Reform Commission issued a voluntary action plan to encourage government officials not to drive for one day in the week and to cycle if the distance was less than 3 km.
Meanwhile, many national legislators and political advisers have called for spending cuts in buying and maintenance of official cars.
"Our intention is to encourage an eco-friendly lifestyle," said Dong Yibin, from energy efficiency office for governmental departments in Shandong province.
"Official bikes make sense because more than half of the organizations and departments affiliated with the Shandong provincial government are located around the Quancheng Road in Jinan (capital city of Shandong)."
Lian said Pingyin's project may be used in other cities, but the results would vary from place to place.
Of the 1,445 uses of official bikes from Nov 11 to Feb 10 in Pingyin, bike management officer Kong Lingdong said the electric-powered bikes were the most popular.
Yu Hengbin, a local government worker, said electric bikes were especially in demand in summer time. As a result, maintenance staff had to frequently charge batteries.
Lian said the bikes reduced the use of official cars and saved between 200,000 yuan ($31,700) and 300,000 yuan a year.
Chang Cheng, team leader of the public participation program at Friends of Nature, a nongovernmental organization, said the success of the national action plan depended "not on buying the bikes, but riding them".
"The lure of official cars and reimbursement of taxi fees are holding back the non-compulsory plan," Chang said.
He suggested the eco-initiative would be more effective if bicycle-only routes and times were set.
But Mao Shoulong, professor in governance at Renmin University of China, said that cycling as a habit may not regain its popularity because the transport infrastructure had changed.
"In many cities the air is polluted and bicycle lanes have disappeared or narrowed," Mao said, adding that cycling cannot be revived unless conditions are improved.
Hot Topics
Wu Ying, iPad, Jeremy Lin, Valentine's Day, Real Name, Whitney Houston, Syria,Iranian issue, Sanyan tourism, Giving birth in Hong Kong, Cadmium spill, housing policy