Medical care to improve through health cards
Updated: 2012-03-02 07:26
| | | | | | | | | | | |
| --- | --- | --- | --- | --- | --- | --- | --- | --- | --- | --- |
|   | | Comments() | | Print | | Mail | | Large Medium  Small | 分享按钮 | 0 |
ZHENGZHOU - The Ministry of Health issued the nation's first citizen health cards on Thursday to improve the efficiency of medical services and facilitate fee transactions across regions.
The cards, being piloted in Henan, Liaoning, Guangdong provinces and the Inner Mongolia autonomous region, will link hospitals, public health institutions and insurance operators across China when it is implemented nationwide, Minister of Health Chen Zhu said at a ceremony marking the launch of the pilot program.
"As part of the digitization task under medical reform, the card will help the people better manage their own health and improve the efficiency of the nation's medical care," he said.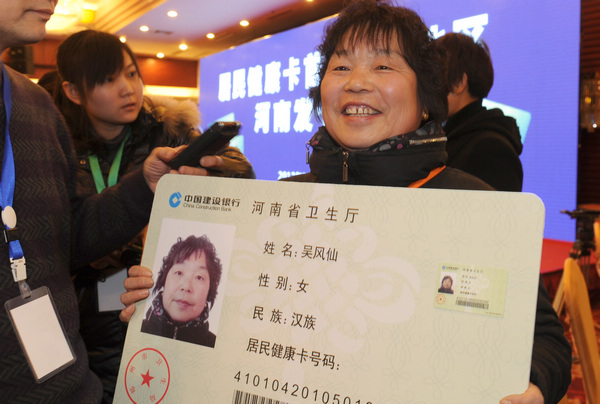 Wu Fengxian, a resident of Zhengzhou, Henan province, holds up a replica of the citizen health card that she received from the Ministry of Health on Thursday. [Photo/Xinhua]
According to Meng Qun, director of the ministry's statistics information center, the cards hold personal information, including health profiles, immunization, blood donation and medical records, and drug allergy alerts.
"We've designed special procedures to safeguard privacy during the card's use," he said. Only the cardholder and medical workers have access to the information.
"At hospitals, the detailed information on the cards will help doctors understand patients' backgrounds so they can make timely and proper diagnoses and treatment plans," he told China Daily.
And when there's an emergency, "that in particular will help save lives", he said.
Wang Taofu, a farmer who received a card, said: "I can go to any hospital in the province with this and the insurance payment will be made directly over the counter at the hospital."
Also, he said, doctors can see on the card the results of any diagnostic tests done at other hospitals, sparing patients from having to repeat tests, he said.
Once it goes nationwide, "rural patients can show their card anywhere in the country and the insured portion of fees will immediately be taken care of," said Gu Jianqin, director of the Zhengzhou health bureau.
Liu Hua, head of the health bureau in Jinzhou, Liaoning province, said: "This is like a personal doctor, tracking a cardholder's health in real time throughout his life."
In addition, it will effectively monitor doctors' care, helping detect any excessive treatment and medical insurance fraud, she said.
Currently, the card can handle medical fee transactions only for participants in the new rural cooperative medical care system, which is run by the Ministry of Health.
City-dwellers, whose health insurance programs are administered by the Ministry of Human Resources and Social Security, still must use their social security cards for insurance information, said Dai Tao, a researcher with the Chinese Academy of Medical Science & Peking Union Medical College.
Social security cards do not contain medical information.
For now, the health card is useful primarily to city-dwellers for its medical records and in making appointments with doctors, Dai said. But in the future, when the health card integrates financial functions through cooperation with banks, "urbanites will be able to use it to pay for medical services not covered by the insurance," he said.
Regarding that, Chen urged government health departments to strive for an "all-purpose" card by gradually integrating different functions, particularly in public service sectors.
"It's only the first step to issue the cards, and next we have to figure out how to promote their uses among the people and make them truly offer people convenience and benefits," he said.
Liu Ce in Liaoning contributed to this story.
Hot Topics
Wu Ying, iPad, Jeremy Lin, Valentine's Day, Real Name, Whitney Houston, Syria,Iranian issue, Sanyan tourism, Giving birth in Hong Kong, Cadmium spill, housing policy