Operation gives boy hope
Updated: 2012-02-29 08:22
| | | | | | | | | | | |
| --- | --- | --- | --- | --- | --- | --- | --- | --- | --- | --- |
|   | | Comments() | | Print | | Mail | | Large Medium  Small | 分享按钮 | 0 |
CHONGQING - "One bottle for five cents, 100 for five yuan, 1,000 for 50 yuan..."
Grade 5 student Wan Chenchen had been doing the same math for two years.
Earning about 300 yuan ($48) from the thousands of waste plastic bottles he picked up during off-school hours, Wan had no idea how long it would take to collect enough for an operation to remove a sixth finger on his right hand.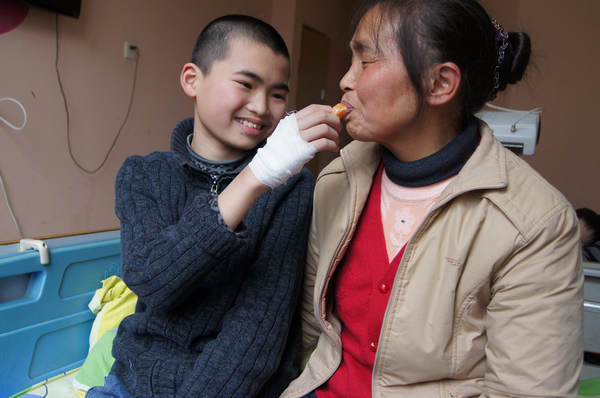 Thirteen-year-old Wan Chenchen feeds an orange to his grandmother Yang Debi, his only family member, at a hospital in Chongqing on Feb 22, as he prepares for an operation to remove an extra finger on his hand the next morning. Jin Ji / for China Daily
However, after Wan's case was picked up by local media in Chongqing, so many people reached out to help that he was able to realize his dream even earlier.
After a two-hour operation on Thursday, doctors successfully removed Wan's extra finger and repaired his right thumb, which couldn't function normally to write or handle chopsticks.
"The cut is unnoticeable. His right hand looks perfectly all right now," said Qiu Lin, Wan's surgeon at the Chongqing Children's Hospital. They'll remove the steel needles in his thumb in a month, and it will be able to bend 80 degrees after rehabilitation, he added.
Wan spent all his savings, about 400 yuan, on the surgery that cost about 6,000 yuan. The rest was funded by Chong-qing Municipal Commission of Communist Youth League and a foundation set up by the hospital.
Wan's father died before he was born, and when he was 1 year old, his mother left him, too. The boy lived with his grandmother, his only family member.
They lived in a balcony measuring less than 10 square meters, which belongs to an apartment shared with another two families. The only piece of furniture in their "home" is a shabby wooden bed and a small desk.
"Our landlord has been kind to us. We just have to pay 100 yuan every month as rent," said Yang Debi, 59, Wan's grandmother.
With a schoolbag on his shoulders, Wan has been spending two extra hours every day scanning the ground for waste bottles on his way to and from school since 2010.
"That's the only way I can support my family," Wan said, lowering his head with a shy smile.
Yang, his grandmother, is grateful.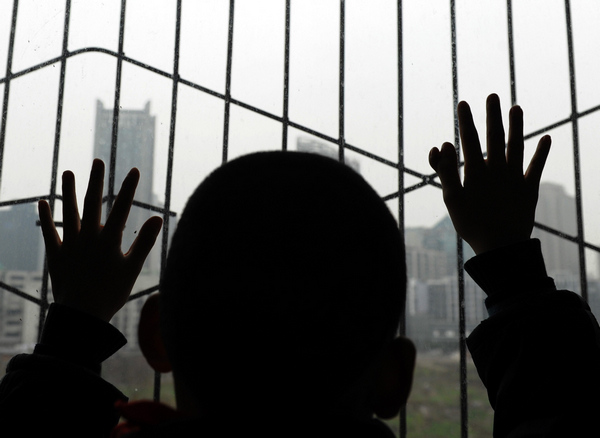 Wan Chenchen had been ashamed to let others see his right hand, which has a sixth finger. The photo was taken in Chongqing about a week before an operation to remove the finger. Chen Cheng / Xinhua
"Though he has had a tough life, he is very independent and considerate."
According to Yang, they could hardly afford meat and would cook some eggs only when they collected extra bottles.
"He would not eat them and persuade me to have them instead," Yang said. Sometimes, Wan, who was offered free lunches at school, would bring back some food to improve his grandmother's poor diet.
When the local youth development foundation asked in November what he wanted for the New Year he asked for a blanket to keep his grandmother warm.
For a long time, the boy, who appeared thinner than most of his peers from malnutrition, had been ashamed to let others see his finger. And his family background used to burden him as well.
"I was laughed at by many classmates when picking up bottles," Wan recalled. "However, I didn't think collecting bottles was a shameful thing. It meant I was relying on myself, and it can also protect the environment."
Having few friends at the time, he developed a strong interest in reading books. He often stayed at bookstores after picking up bottles.
"He always stayed in my little store until very late without buying any books," said bookstore owner Chen Lin, who didn't know about Wan's life until his grandmother came to bring him home one day.
As a psychotherapist, Chen offered her help. Besides buying him some clothes and food, and allowing him to read freely, she also tries to ensure the boy's psychological health.
According to Chen, the boy still couldn't get out of the shadow of losing his parents.
"It took him some time to grow more positive and start to make more friends," said Chen, who later became like Wan's family godmother.
"Now he has been friends with many classmates," said Wan's class adviser Fang Fang, adding that Wan has volunteered to get to school earlier to mop and do the cleaning every morning.
Media coverage earlier this month brought Wan waves of support. Even though he was eager for the surgery, Wan turned down offers from people who wanted to raise funds for it at the beginning, insisting on saving money from collecting waste bottles.
"When such things (asking for help) take place too often, it would burden them. My godmother told me people must rely on their own hands to win respect from others," Wan explained in a low voice, lowering his head in shyness. "I don't want to cause them more trouble."
Chen and his grandmother had tried hard to persuade him, and he finally accepted the help after doctors warned that his situation may worsen if the operation wasn't done as soon as possible.
"And that will ruin my dream of becoming a policeman," said Chen, who said before the surgery he would repay the cost by continuing to pick up bottles as he recovers.
Leaving the hospital on Tuesday, Wan has moved with his grandmother to a hotel with the support of the youth league and other charitable organizations.
They will stay there until Wan fully recovers.
Ji Jin contributed to this story.
Hot Topics
Wu Ying, iPad, Jeremy Lin, Valentine's Day, Real Name, Whitney Houston, Syria,Iranian issue, Sanyan tourism, Giving birth in Hong Kong, Cadmium spill, housing policy