Xi pushes for Sudanese talks
Updated: 2012-02-29 07:32
By Zhang Yunbi and Cheng Guangjin (China Daily)
| | | | | | | | | | | |
| --- | --- | --- | --- | --- | --- | --- | --- | --- | --- | --- |
|   | | Comments() | | Print | | Mail | | Large Medium  Small | 分享按钮 | 0 |
Vice-president urges Sudan and South Sudan to settle differences and protect Chinese workers
BEIJING - Differences between Sudan and South Sudan should be resolved as soon as possible, China said, as tensions over oil rights simmered.
Vice-President Xi Jinping told Sudanese Foreign Minister Ali Ahmed Karti on Tuesday that China hopes that Sudan and South Sudan can maintain contact for both their interests and the overall regional situation.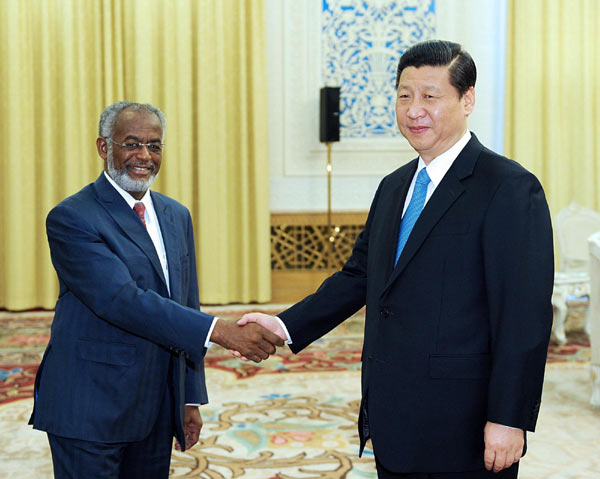 Chinese Vice-President Xi Jinping told Sudanese Foreign Minister Ali Ahmed Karti on Tuesday in Beijing, Feb 28, 2012. [Photo/Xinhua]
Sudan said it welcomed Chinese companies investing in mining and agriculture as the country tries to cut its reliance on oil.
Karti arrived in China for a three-day visit on Sunday and he told Xi that Sudan will solve its differences with South Sudan through negotiations.
South Sudan declared its independence from Sudan on July 9.
However, the two countries have failed to clearly agree their borders.
Tensions mounted recently following a dispute over how much landlocked South Sudan should pay Sudan to export its oil.
The Sudanese army said on Sunday that clashes broke out between its forces and South Sudan forces on the border.
Yang Guang, a professor of African studies at the Chinese Academy of Social Sciences, said China sees the dispute being resolved with the interests of both countries being honored.
"The two countries will not achieve substantial development unless an appropriate solution is reached to address issues, including borders and oil-related interests," Yang told China Daily.
Xi said China and Sudan have established good relations and maintained frequent contact.
China is a trusted friend of the people of Sudan, and Sudan appreciates the long-term support and assistance extended by China, Karti said.
Xi also urged Sudan to take measures to ensure the safety of Chinese organizations and personnel in Sudan.
On Jan 28, workers from a Chinese company operating in the South Kordofan region were attacked by a group of gunmen belonging to the Sudan People's Liberation Movement-North sector.
One worker was killed during the attack. The others returned home earlier this month.
In a news conference on Tuesday, Karti said Sudan will increase oil production to boost Chinese energy companies' investment in the country.
More oil blocs will be announced and Chinese companies are expected to invest in new ones, Karti said.
But the key to the region's lasting stability lies in the "solution of oil production issues between Sudan and South Sudan rather than unilateral offers to increase oil production", Yang said.
In addition to oil, China and Sudan are working together in mining, food processing and infrastructure, the minister said.
"Sudan boasts advantages in the mineral sector which are expected to play a vital role in the years to come," Karti said, adding that Sudan hopes China will enhance agriculture investment.
Sudan is sending a signal that it is confident of ridding itself of oil dependence, analysts said.
Tapping into the full potential of its various resources will help Sudan "diversify its development paths", said He Wenping, a researcher of African studies at the Chinese Academy of Social Sciences.
China's major energy companies, including China National Petroleum Corp, are now dealing with projects that have been complicated by the independence of South Sudan.
"China has a right to choose its options and Sudan has no right to stop it," Karti said.
Sudan claims that after South Sudan's independence it lost the vast majority of its oil and gas reserves.
South Sudan said Sudan had stolen more than $800 million worth of oil since December, as South Sudan's oil exports have to go through a pipeline in Sudan, Reuters reported.
Karti said the African Union established a mediation process in a bid to resolve the dispute and will provide more expertise and advice.
"We are close to mediation and we need ideas," he said.
Hot Topics
Wu Ying, iPad, Jeremy Lin, Valentine's Day, Real Name, Whitney Houston, Syria,Iranian issue, Sanyan tourism, Giving birth in Hong Kong, Cadmium spill, housing policy