Tibetans celebrate New Year's Day
Updated: 2012-02-22 18:57
(Xinhua)
| | | | | | | | | | | |
| --- | --- | --- | --- | --- | --- | --- | --- | --- | --- | --- |
|   | | Comments() | | Print | | Mail | | Large Medium  Small | 分享按钮 | 0 |
YUSHU, Qinghai - Tibetans are celebrating the first day of their Year of the Water Dragon on Wednesday, and in many cases their lives are looking up in 2012, as government assistance contributes to their conditions becoming modernized.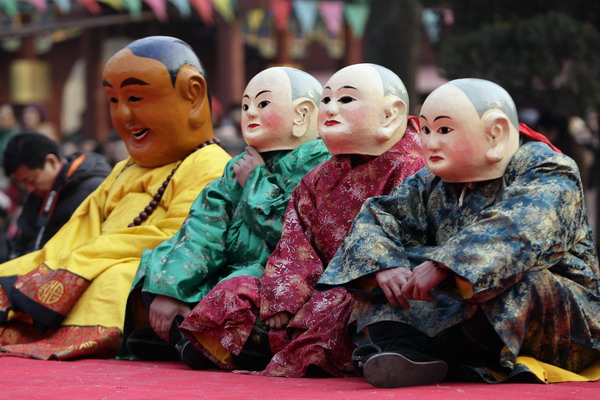 A Tibetan monk (L) and performers attend a religious ceremony, known as "Da Gui" or beating ghost, to celebrate the upcoming Tibetan New Year which starts on February 22 at Yonghegong Lama Temple February 21, 2012. The ceremony is held annually during the Tibetan New Year as it is believed to expel evil spirits from the monastery. [Photo/Agencies]
Phurbu Doje, 70, got up before daybreak New Year's Day to fetch water from a river near his home in Yushu, a Tibetan county in northwest China's Qinghai province.
For generations, Tibetans in Rakshi, a remote town perched 4,200 meters above sea level, have kept the custom of drinking predawn water to see in the new year. "The water will purify our souls and bring good luck throughout the new year," Phurbu Doje says.
Celebrations for China's 5 million Tibetans will last until the 15th day of the first Tibetan month. For Phurbu Doje, this year's holiday is particularly delightful.
"Last year, we didn't celebrate at all as we were fighting the biting cold and sorrow in our tents," he says, referring to the devastating quake of 2010 that leveled his decades-old house in the heart of Gyegu town, along with many other local people's homes.
His family of six lived in tents for 18 months, until they moved into a new house built with government subsidies in Rakshi town in October. "I never even dreamed of living in such a nice building," he says.
His new home is a Tibetan-style structure with white outer walls and a courtyard. A Chinese national flag hangs outside one of its windows.
"We are expecting crowds of visitors in the coming two weeks," he says, "mostly friends and relatives who wish to borrow some ideas for their own home rebuilding plans."
About 198,000 people in Yushu county are still living in prefabricated houses, waiting to move into new homes, according to figures provided by the local government last year.
But in October, the Qinghai provincial government earmarked 160 million yuan ($25.4 million) in subsidies to keep these people warm.
Soinam Lhamze's family of 10 got a pay-out of 8,100 yuan, which was enough to cover fuel costs as well as the family's pre-holiday shopping for food, prayer flags and clothing.
"Next year, we'll celebrate the new year in our new home," she predicts.
Her good wishes were repeated as sutra chanting began before daybreak on Wednesday at Gyegu Monastery, the largest in Yushu county. "May all human beings be free from disasters and diseases; may the world enjoy peace and our nation remain stable and prosperous," says Soinam, an abbot at the monastery.
"Dragon baby"
Namtso spent New Year's Day at a clinic in her home county Guinan, of the Hainan Tibetan Prefecture in Qinghai province. Her daughter was born three days before the holiday.
"This dragon baby is the best gift for our family," she says.
Charges for her delivery were waived, under a new medicare program that provides free medication and child birth to all Tibetans, at an annual cost of 40 yuan per person.
Namtso and her husband named the baby girl Drolma. "It's the name of a goddess in the Buddhist scripture and we hope it will bring the child some good luck," she says.
The girl is Namtso's second child, giving the couple's son a baby sister to play with.
The family raise five heads of cattle and 50 sheep, and make an additional 20,000 yuan a year digging worm fungus, an expensive herb native to the Qinghai-Tibet Plateau.
Her whole family joined her and the baby at the hospital to mark New Year's Day. "Tibetan women used to give birth at home with no professional aid. Many died during childbirth," according to Namtso.
Across the Tibet plateau, people got up early on Wednesday for religious observances, wishing each other "Losar Tashi Delek," the Tibetan equivalent of "Happy New Year."
Devout Buddhists lined up in front of Potala Palace in the heart of Lhasa at 6 a.m., eager to be the new year's first worshippers. As of 11 a.m., Potala had received 6,000 pilgrims.
Li Li, a new graduate from Beijing, checked in at a hostel in downtown Lhasa Wednesday morning. "It'd be fun to experience the Tibetan New Year on my first visit to Lhasa."
An American traveler, who gave only his first name as Mark, said he was looking for homestay with a local family, hoping to learn more about Tibetan culture and lifestyle.
Mark said he has a full-time job in Guangzhou and enjoys traveling around China to study folk customs.
In Kangding county of Sichuan province's Garze Tibetan autonomous prefecture, celebrations also included a book fair and Tibetan singing and dancing performances staged on a local square.
Many of the local Tibetans also included Jiaozi, or dumplings, the traditional Chinese New Year food, in their own New Year's Eve feast.
Hot Topics
Wu Ying, iPad, Jeremy Lin, Valentine's Day, Real Name, Whitney Houston, Syria,Iranian issue, Sanyan tourism, Giving birth in Hong Kong, Cadmium spill, housing policy