VP Xi's trip to address 'trust deficit' with US
Updated: 2012-02-10 09:34
By Cheng Guangjin and Tan Yingzi (China Daily)
| | | | | | | | | | | |
| --- | --- | --- | --- | --- | --- | --- | --- | --- | --- | --- |
|   | | Comments() | | Print | | Mail | | Large Medium  Small | 分享按钮 | 0 |
BEIJING / DES MOINES, Iowa - Vice-President Xi Jinping's upcoming visit to the United States will provide a very important opportunity to enhance bilateral mutual trust, as a "trust deficit" exists that contrasts with booming bilateral ties, a top Chinese diplomat said on Thursday.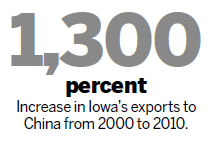 "The level of mutual trust between China and the US is lagging behind what is required for the further development of our bilateral relations," Deputy Foreign Minister Cui Tiankai told reporters at a briefing.
"Vice-President Xi's visit will present a very important opportunity to enhance mutual trust," he said.
Xi will visit the US from Feb 13 to 17, where he will meet US President Barack Obama, and hold talks with Vice-President Joe Biden, Secretary of State Hillary Clinton and Defense Secretary Leon Panetta on bilateral relations, major international and regional issues of mutual interest.
Xi will also meet with leaders of both houses of the US congress and former leaders before going to the state of Iowa and Los Angeles.
The purpose of this visit is to further advance the cooperative partnership that is based on mutual respect and mutual benefits, said Cui.
Cui also expects the visit to help remove some hurdles from Sino-US trade, including restrictions on US exports of high-tech products to China and obstacles to Chinese investment in the US.
"High-level visits could promote economic and trade ties politically and may remove some barriers in this field, and this visit is expected to generate such a result," said Cui.
"But it doesn't mean procurement or sending gifts to the other side," Cui added.
As for the renminbi exchange rate, which has long been an issue of concern in the US, Cui said China will continue its currency reforms.
"We have been always advancing reform of the exchange rate mechanism, and in the future we will also resolutely and unwaveringly advance such reforms," said Cui.
"But if one believed that because of a high-level visit we would make a move on the exchange rate, that would truly amount to currency manipulation," Cui said, when asked whether Xi would have anything new to say on the yuan during his visit.
Xi's visit also comes at a time when the US and China have been experiencing differences over a range of global issues, including sanctions on Iranian oil exports, the situation on the Korean Peninsula, territorial disputes over islands in the South China Sea, and a recent draft UN resolution on Syria.
The US' increased presence in the Asia-Pacific area has also drawn a lot of attention in China.
"China has fully considered US' concerns when making decisions on relevant issues, and hopes the US could do the same," said Cui.
Cui said China also attaches great importance to the two countries' ties at the state and provincial levels. During Xi's five-day visit, he will reunite with Iowa Governor Terry Branstad, who hosted him in 1985 in the city of Muscatine located near the Mississippi River.
"My wife, my children and grandchildren will all greet Xi at the airport, and my eldest granddaughter will present a big bouquet of flowers to him," Branstad said.
On Feb 15, Xi will attend a reception and a dinner at the Iowa Capitol in Des Moines. He is then due to attend an agriculture symposium and visit a farm in Iowa the next day, the governor said.
In 1985, Xi, then a local official in Hebei province, led a delegation to Iowa to learn about agricultural technology. Hebei and Iowa cemented province-state ties in 1983.
Iowa's exports to China have increased by approximately 1,300 percent from 2000 to 2010, according to the US-China Business Council. Main exports include crop production, machinery and processed foods.
Orville Schell, Arthur Ross director of the Center on US-China Relations at the New York-based Asia Society, said the visit will enable the two countries to talk more constructively about issues where there are deep disagreements.
"It is absolutely critical to do so frankly, without either side becoming angry, and each side stopping retaliating unfairly, or foolishly, or childishly because the relationship is so important, we cannot afford that," Schell told China Daily.
Xi's visit is "important to raise the level of understanding of China" and also to "humanize a relationship that needs that kind of benefit", said Jerome Cohen, law professor at New York University, and a leading Western scholar on China's legal system.
Chen Weihua in New York contributed to this story.