China: Rise of Asia signals greater balance
Updated: 2012-02-05 08:00
(Xinhua)
| | | | | | | | | | | |
| --- | --- | --- | --- | --- | --- | --- | --- | --- | --- | --- |
|   | | Comments() | | Print | | Mail | | Large Medium  Small | 分享按钮 | 0 |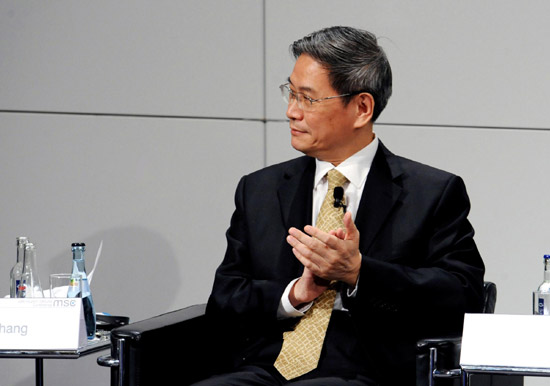 China's Vice-Foreign Minister Zhang Zhijun attends a session at the 48th Conference on Security Policy in Munich February 4, 2012. [Photo/Xinhua]
MUNICH, Germany - The rise of Asia represents greater balance in the international power structure, China's Vice Foreign Minister Zhang Zhijun said here on Saturday.
Zhang made the remarks during a panel discussion on "America, Europe and the Rise of Asia" at the Munich Security Conference.
Development of the East and the West is not a zero-sum game, Zhang said in his speech titled "Working Together for Peace, Stability and Development of Asia."
The rise of Asia has picked up speed since the beginning of the 21st century and Asia remains a bright spot and a big plus for the world against a backdrop of sluggish recovery of the world economy and frequent regional turbulence, he said.
The modernization of billions of people in Asia will create a bigger market and more job opportunities for the world, Zhang said, adding that it renewed vitality to the efforts to fight global challenges and improve global governance.
Asia has always been an open and inclusive region and China welcomes the participation of the United States, Europe and others from outside the region in Asia's development and their constructive contribution to Asia-Pacific affairs.
But in the meantime, he noted, countries outside Asia should fully respect the will of the Asian people and follow the development trend in Asia.
It is the shared aspiration of the people of Asia to seek economic development, better living standards and stability, according to the vice foreign minister.
He pointed out that any move to deliberately highlight the military and security agenda, create tension and strengthen military presence or military alliance runs counter to the trend of our times and people's will in Asia.
He called on countries outside Asia to respect the characteristics of Asia and the Asian people's way of action, stressing that Asia does not export development models or ideologies, nor does it want to see others impose their will on Asia.
With regard to the Euro-Asian ties, Zhang pointed out there were immense scope and potentials for Asia-Europe cooperation lying ahead. China has been supporting the European Union's efforts to address its debt problems and hopes the two sides can further enhance mutual understanding and trust and deepen mutually-beneficial cooperation, he said.
With its constant policy of building friendship and partnership with its Asian neighbors, China has enjoyed over 30 years of peace with its neighbors and their economies have become much more integrated, Zhang said.
Although there may still exist some differences and frictions between China and some of its neighbors, efforts are being made to solve them and they do not affect the overall relations between China and its neighbors.
China sees the future of its development in the common development of Asia, Zhang said.
China does not seek a sphere of influence, he said. The country does not intend to build an exclusive regional order and is not capable of doing so, he added.
China is firmly committed to peaceful development and will take its due responsibilities in safeguarding world peace and development while handling affairs concerning its 1.3 billion people well, he said. That is China's long-term strategy and solemn promise to the world, he added.
Former US Secretary of State Henry Kissinger, Australian Foreign Minister Kevin Rudd, Singaporean Defense Minister Ng Eng Hen, US Senator John McCain and former French Foreign Minister Michel Barnier also participated in the panel discussion.