Entrepreneur finds new life in juice
Updated: 2012-02-05 09:08
| | | | | | | | | | | |
| --- | --- | --- | --- | --- | --- | --- | --- | --- | --- | --- |
|   | | Comments() | | Print | | Mail | | Large Medium  Small | 分享按钮 | 0 |
Flo Eysler is a man on a mission. "I just want to make products that are healthy enough to feed my own children," the father-to-be says. Eysler, 34, from Germany, is determined to make available to Chinese people natural foods and beverages "absolutely free of additives, preservatives and sugar", and that offer "the maximum in health benefits".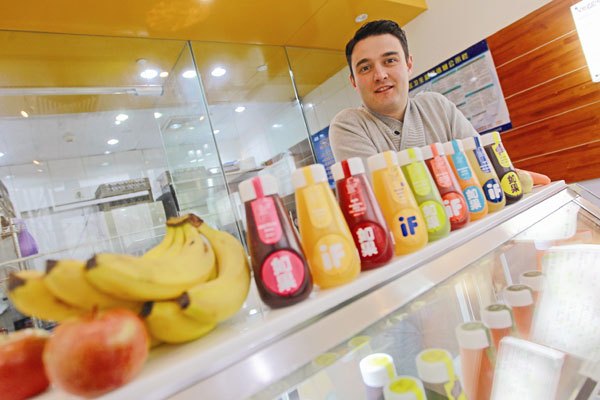 Flo Eysler runs a juice business in China and aims to serve fresh and natural food products to his customers. Provided to China Daily 
For the past four years, he says, he has been doing exactly that with fruit juices and smoothies. He also insists that nothing he sells has been on the shelf for more than 24 hours, though he's working to extend the shelf life of his natural products to 48 hours or more.
Eysler hails from the city of Mainz in western Germany. With a population of 200,000, it might just about qualify as a sleepy village if it were in China. So when he arrived in Shanghai to take up an internship 9 years ago, he fell for the buzz of the city instantly.
"I feel so alive here. There are so many things around you, that surround you and are happening around you," he says.
Eysler landed a position in the purchasing department of the Beijing branch of Volkswagen in 2003. He arrived with an unquenchable thirst to learn all he could about China, and as that thirst began to be slaked, his appetite for working in an office evaporated. After three years, he decided to start a business himself.
"I hate sitting behind by table and becoming fatter every day ... because I (have) no time to go out to eat.
"It's not healthy," he says.
Eysler had been raised to eat what he regards as natural and healthy food with a minimum of sugar, and he found it difficult to find anything that fits that bill in China. He reckons that while a lot of Chinese food is drowned in oil and condiments that are supposed to boost flavor, Western fast food simply lacks nutrition.
"I missed something fresh, but there was nothing fresh and convenient."
From an early age, Eysler was nurtured with a robust work ethic and one of the first lessons came from delivering newspapers as a youngster. He had a passion for music and in his teens become a disc jockey at parties. As a student earning an general economics degree, he worked in professional clubs and bars.
That in turn generated money to invest in equipment for music production, and a few years later his Eastern odyssey began. He made a name for himself on the DJ scene in Beijing.
In 2006, Eysler met another German, Hans Au, who is like-minded when it comes to food and lifestyle.
The two quit their jobs and decided to run a business selling juice, a kind of venture well established in Germany.
"Outside, there are juice bars which can provide freshness but that are not convenient enough, and bottled beverages that provide convenience but are not fresh, with many having sugars and chemicals added," Eysler says.
The pair spent 18 months learning every detail of making juice, ranging from choosing fruit to weighing the differences between various kinds of juice extractors.
They chose machines that extracted juice more slowly, in a way they say brings out the best flavor of the fruit.
With initial funds of 500,000 yuan ($78,700) and a clear business ethic in mind, Eysler and Au opened the first iF Juice store in November 2007.
The company now provides about 200,000 bottles of various juices a year to about 10 hotels, 30 supermarkets and 20 restaurants.
The main product, 300 ml of orange juice, sells for 18 yuan, a price that Eysler thinks is affordable.
For the past four years he has opted not to open any new outlets, though he and Au expect to open five new shops in Beijing in the year ahead.
Food will be added to the mix at those outlets, and eventually Eysler hopes to offer bottle recycling and nutrition classes as well.
He maintains that underpinning this conservative approach is a commitment to ethics and says that one result of that is to keep a lid on prices despite rising costs.
Customer Wen Wen says: "It tastes good, just like the fresh juice I squeeze at home. I think it must be healthy."
Over the past six months, Eysler has changed his own eating habits and says that in that time he lost about 15 kilograms "not by eating less, but by eating differently".
"Many people are gaining weight nowadays, but most of them don't know why, and I want to share my own stories."