6 captive-bred pandas released into wild
Updated: 2012-01-11 22:07
(Xinhua)
| | | | | | | | | | | |
| --- | --- | --- | --- | --- | --- | --- | --- | --- | --- | --- |
|   | | Comments() | | Print | | Mail | | Large Medium  Small | 分享按钮 | 0 |
DUJIANGYAN - Six young pandas bred in captivity were released as a group of "pioneers" into an enclosed forest in Southwest China's Sichuan province on Wednesday.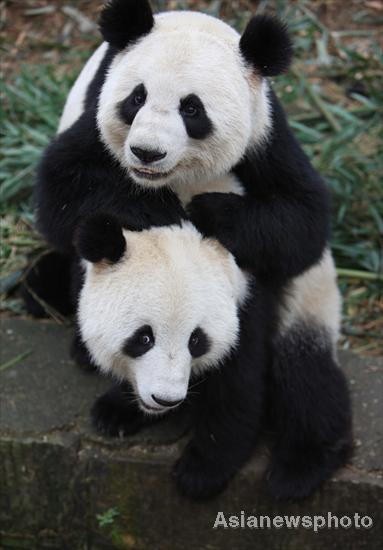 Giant panda twins Xingya (top) and Xingrong, two of the captive-bred pandas to be released into an enclosed forest plays at Chengdu Research Base of Giant Panda Breeding, Dec 21, 2011. [File photo/Asianewsphoto]
The six pandas will eat bamboo freely with no help of breeders in the "Panda Valley," the Chengdu Giant Panda Breeding and Release Research Center affiliated to the Chengdu panda base, said Fei Lisong, deputy director with the center.
The release is the first step of a project aiming to help the endangered species to adapt to the wild environment and eventually survive in the wild, Fei said.
According to Fei, after a year observing their health and researching their genetic backgrounds, the six -- Xingrong, Xingya, Gongzai, Yingying, Zhizhi and Qiqi-- were carefully selected from 108 pandas living at the Chengdu Research Base of Giant Panda Breeding.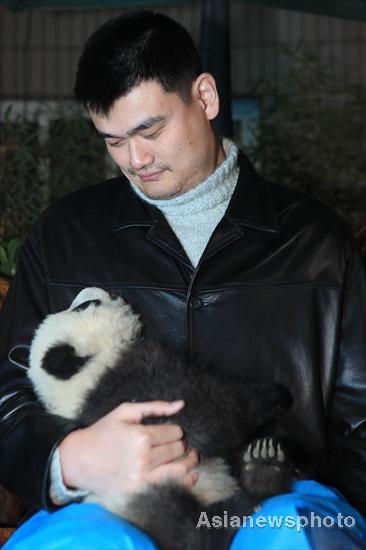 Yao Ming, a retired Chinese professional basketball player holds a panda cub during a panda releasing ceremony at Chengdu Research Base of Giant Panda Breeding, Jan 11, 2012.  [Photo/Asianewsphoto]
"They are in their subadult age, similar to the childhood of human beings, with comparatively strong survival ability and rapid growth. And Xingrong and Xingya are twins," he said.
They will be the first group of pandas released into the "Panda Valley," a center which is located in Majiagou in Yutang town in the Dujiangyan city, about 40 km west of the provincial capital of Chengdu.
Still under construction, the center is designed to train giant pandas born in captivity to survive in the wild.
Over the past 30 years, the Chengdu panda base has been sending captive-bred pandas back into the wild. However, their efforts have seldom succeeded, as human-raised pandas have great difficulty surviving in the wild, according to a statement from the base.
Among the 10 pandas that have been released since 1983, only two are still living in the wild. Six have been sent back to the breeding center due to dramatic weight loss, and one was found dead and the other is believed to have also died, it said.
Researchers believe that releasing six pandas together, unlike previous attempts to release them individually, will help them to survive.
The wild release training will concentrate on upgrading the adaption ability of pandas by reducing their contact with humans, as well as providing artificial wild feeding areas.
It is expected that some pandas with the ability to survive in the wild will be released some day to a larger semi-wild area with more abundant bamboo choices and no man-made structures, said Fei.
The separation of habitats, resulting from human activities, has fragmented the wild population of giant pandas, which has limited mating options and lead to a high possibility of inbreeding.