Lu Shaye, director-general of the Chinese Foreign Ministry's Department of African Affairs, on Wednesday exchanged views with people.com.cn readers on China's diplomacy in 2011 and talked about China's relationship with Africa.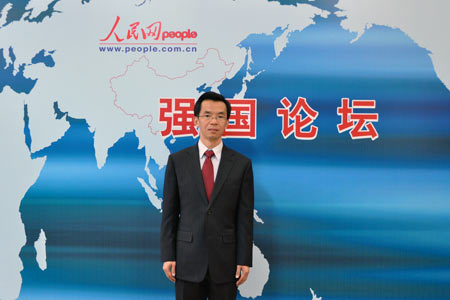 Lu Shaye, director-general of Chinese Ministry of Foreign Affairs' Department of African Affairs, poses for a photo at People's Daily website, Jan 11. [Photo/People.com.cn]
Topic: China-Africa relations
Q: Given that China and Africa are geographically far apart, how was a time-honored bilateral relationship developed? What are the characteristics of Sino-Africa ties? What are the highlights of Sino-Africa exchanges in 2011?
A: Sino-Africa ties can be traced back to more than 2,000 years ago. We are equal partners which have political mutual trust, win-win economic cooperation and increasing cultural exchanges. As developing economies, we share common interests and support each other in the international arena. The year 2011 saw frequent high-level exchanges, fast expanding bilateral trade and fruitful people-to-people exchanges between China and Africa. The Forum on China-Africa Cooperation also welcomed two new members - the newly independent South Sudan and African Union Commission.
Topic: "Neo-colonialism"
Q: Some Western media say China has emerged as "a neo-colonial power" on the African continent. How do you view the allegation?
A: Some Westerners said China's cooperation with African countries is a practice of "colonialism", while the African people said the West is re-colonizing Africa. Let's see what colonialism is -- grabbing resources with violence, enslaving African people, seizing land and destroying African culture.
China helps some African countries build roads, bridges, hospitals and schools. We buy African resources with equivalent exchanges. China never interferes with other countries' internal affairs, or imposes China's culture and values, but communicates with the African countries on an equal basis. We support the African countries solving their problems independently.