Scenic spot opens to attract winter business
Updated: 2011-12-31 09:41
By Shao Wei (China Daily)
| | | | | | | | | | | |
| --- | --- | --- | --- | --- | --- | --- | --- | --- | --- | --- |
|   | | Comments() | | Print | | Mail | | Large Medium  Small | 分享按钮 | 0 |
KANAS, Xinjiang - This year saw the Kanas scenic spot in Northwest China's Xinjiang Uygur autonomous region, known as "the last piece of pure land on Earth", open for the first time in winter to large groups of tourists.
On Friday, travelers on a tour of the scenic spot gained a series of unusual experiences from a travel program that scheduled various diversions traditionally enjoyed by the native Tuwa ethnic group. They included a ski race using replicas of ancient ski boards and snow wrestling.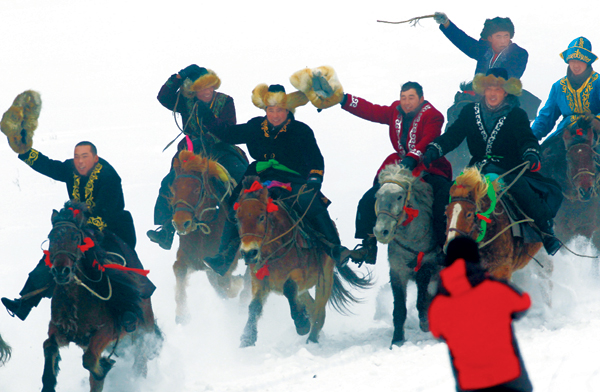 Ethnic Tuwa people stage a show to kick off a snow festival in scenic Kanas, Northwest China's Xinjiang Uygur autonomous region, on Friday. Kanas is dubbed "the last piece of pure land on Earth". [Photo by Liu Xinhai / for China Daily]
"This is the first time that Kanas has been opened to a large number of tourists in the winter," said Liu Shenggang, director of the management committee of the Kanas scenic spot.
"In the past, it wasn't common for people to visit Kanas in this season since the road was always blocked by heavy snow."
Several steps have been taken to attract more visitors; discounts have been offered on the tickets giving entrance to the Kanas scenic spot and the road leading to the attraction has been broadened. Liu said visitors will now be able to see how the beautiful lake and boundless forest there look in the snow.
Charley North, together with nine skiers from New Zealand, said making a three-day trip to Kanas is "absolutely amazing".
"Kanas is pure and quiet," North said. "Not many people live there. It's like a fairyland of ice and snow. We know Altay (where the Kanas scenic spot is located) is the first place of skiing. That's why we chose to visit here. It's very interesting to see local Tuwa people ski on the ancient skiing boards."
Altay, a remote city in the northern part of Xinjiang, has been honored as being "the cradle of traditional Chinese skiing". In 2006, archaeologists discovered cliff paintings depicting hunters standing on rectangular boards and carrying poles in their hands. They concluded the images proved that skiing had taken place in Altay between 100 centuries and 200 centuries ago.
Maliqin, a 33-year-old man and member of the Tuwa ethnic group from Hemu county, said: "We Tuwa begin skiing when we are kids. We used to live on hunting in the forest. So it's quite common to see locals, from the young to the old, skiing back and forth in the winter."
His skis, made of horse skin and pinewood, are nearly 2 meters long and weigh 10 kilograms each.
"Compared with modern skis, the ancient ones are heavier and they go slower," he said. "But it's easier to run on these fur skis when the snow is above 2 meters thick. The modern skis don't work."
Maliqin said the Tuwa people have seen great changes in the past decade. For one, they no longer live on hunting but instead herd and sell tourism services.
Zhao Guiqiang, a 38-year-old owner of a five-bedroom courtyard in Hemu county, had similar thoughts. Zhao, though he hails from Gansu province, married a local Tuwa woman in Hemu village and then got the opportunity to run a tourism business.
"The Tuwa people, who used to live on herding and hunting, have settled down and got rich from tourism," Zhao said. "My courtyard, which can receive 10 visitors at a time, will bring me 20,000 yuan ($3,200) this winter."
Instead of hotels, many visitors prefer to stay in Tuwa people's houses, which have many ethnic charms, Zhao said.
Xinjiang, where it snows for long stretches of the year, has many resources it can exploit to promote winter tourism. After more than 10 years of work to promote ice and snow tourism in Xinjiang, the businesses are booming.
Xinjiang, to distinguish itself from other Chinese places that are also promoting winter tourism, will offer tourism products featuring ice and snow, as well as organize attractions that make use of unique folk customs, Chi Chongqing, Party chief of the Xinjiang tourism bureau, said in late November.
Chi said 100 million yuan was distributed out of a special provincial fund this year to promote winter tourism. In 2010, 40 million yuan went to the same purpose, he said.
This past winter, ski resorts in Xinjiang welcomed about 3 million visitors. The income from ice and snow tourism contributed a sixth of the income made from tourism in Xinjiang that year.