Glitches hamper Web sales of train tickets
Updated: 2011-12-31 07:43
By Xin Dingding and Wu Yiyao (China Daily)
| | | | | | | | | | | |
| --- | --- | --- | --- | --- | --- | --- | --- | --- | --- | --- |
|   | | Comments() | | Print | | Mail | | Large Medium  Small | 分享按钮 | 0 |
Ministry investigating problems with online purchasing system
BEIJING - The railway system's online booking system has begun to show its vulnerability - and at times has been unable to issue tickets that were paid for - as the massive wave of travelers during Spring Festival approaches.
A netizen named "Ameng" said he booked and paid for two tickets for train K932 on the website. A message from the bank informed him the payment was successful, but the booking website showed he had not paid and canceled the order.
So far, at least 400 netizens have joined online discussions to swap unfortunate stories.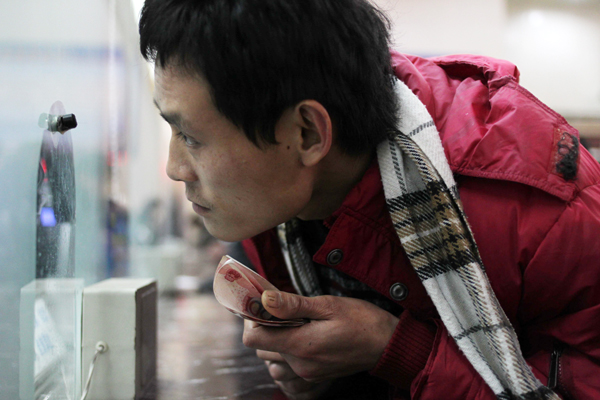 A man tries his luck buying a ticket at the Beijing Railway Station on Friday. Sales of tickets for the peak travel season of the Spring Festival started with long lines in stations. [Photo by Wang Jing / China Daily]
The Ministry of Railways said on Friday that it is aware of the problem and is working on it.
It promised that deducted money will be returned within 15 days to those who did not get tickets.
"The problem is because the current online purchase policy requires buyers to pay for the tickets within 30 minutes after booking. If the website received the payment more than 30 minutes later, the ticket will be distributed to the pool for sale again," the ministry said, without explaining why the delay occurs.
Fan Yingshu, director of the transport department of Beijing Railway Bureau, said at a news conference on Friday that the delay in payment is mostly due to problems between banks and payment platforms.
To prevent such mistakes, the ministry said it will extend the time for payment starting Saturday.
Meanwhile, efforts are being made to improve the website's design, add more facilities and increase its network bandwidth, the ministry said.
"It is the first time the online booking system has been tested by the Spring Festival travel peak. Please give us more time to make improvements," the ministry said.
According to Fan, more than 8 million people have registered at the website.
The ministry said that the website has recently seen huge traffic - more than 10 times that of previous days.
For those who successfully booked tickets online, the experience is better than the past Spring Festival travel peak.
Xu Hui, 26, who is from Jilin province and works in Beijing, said the online booking system reduced the "pain" of buying tickets.
"I used to get up very early and stand in a line for a long time, not even sure there would be a ticket for me," he said.
But this year he booked a ticket online first, and went to the Beijing Railway Station to get the ticket printed out.
"When I stood in line again waiting to get my ticket, I felt assured and easy, because I knew I wouldn't be standing there in vain," he said.
Experts said that the online ticketing system is a step forward, but it does not help improve equality.
Fang Tong, a farmer from Southwest China's Guizhou province, said he did not try the Internet booking or hotline booking.
"I don't know how to surf online, and I don't have a computer. If I use the computer at an Internet cafe, I am afraid of being cheated. I'd rather spend some time and line up here," said he.
He did not get a ticket for Jan 8, and was told to come back the next day and try his luck.
Apart from the online booking system, the ministry's real-name ticket system is also putting pressures on train stations nationwide.
Since June, high-speed train tickets have been sold on a real-name basis, a move designed to prevent scalping.
And starting Sunday, all kinds of train services will be included under the real-name system and all the tickets can be bought online.
Passengers are allowed to buy only one ticket with one identity certificate. Foreigners can use passports to register at the online booking system or use the sales hotlines.
To make sure the real-name system can effectively stop scalping during the travel peak when train tickets are in short supply, the railway ministry decided to have ticket holders' ID certificates checked at the entrances of railway stations in all major cities.
On other days, ID certificates are only checked randomly.
Beijing Railway Bureau said all passengers will be checked before being allowed into the city's three major railway stations starting Jan 8, the first day of the travel season.
"Or they can be prevented from boarding the train," said Ren Bin, deputy director of transport department of Beijing Railway Bureau.
He suggested passengers arrive at the train stations at least 40 minutes before departure, but not earlier than four hours before departure.
That is because checking IDs will take an extra eight to 13 minutes for each passenger, he said.
In Shanghai, only passengers with tickets of some popular train services will undergo real-name identification checks starting Sunday, a spokesman with Shanghai Railway Bureau said. Passengers are advised to arrive at train stations one to two hours before departure time.
Other passengers on routes with tickets in ample supply, such as Shanghai-Nanjing and Shanghai-Hangzhou high-speed railways, will be checked randomly, he said.
In Guangzhou, South China's Guangdong province, where migrant workers will leave for home, all passengers will have IDs checked starting Sunday.
In Chengdu, Southwest China's Sichuan province, where many migrant workers come from, railway authorities said that ID checking will start Jan 25, and before that, only 5 percent of passengers will be checked on a random basis.
Huang Zhiling in Chengdu and Li Wenfang in Guangzhou contributed to this story.