Panda shows carnivorous side
Updated: 2011-12-31 09:35
By Huang Zhiling (China Daily)
| | | | | | | | | | | |
| --- | --- | --- | --- | --- | --- | --- | --- | --- | --- | --- |
|   | | Comments() | | Print | | Mail | | Large Medium  Small | 分享按钮 | 0 |
CHENGDU - To most people, the words "giant panda" conjure up thoughts of a gentle and slow vegetarian living in captivity.
But digital photos taken on an infrared camera in Sichuan province, home to more than 80 percent of the pandas in the world, are making many question the accuracy of such notions.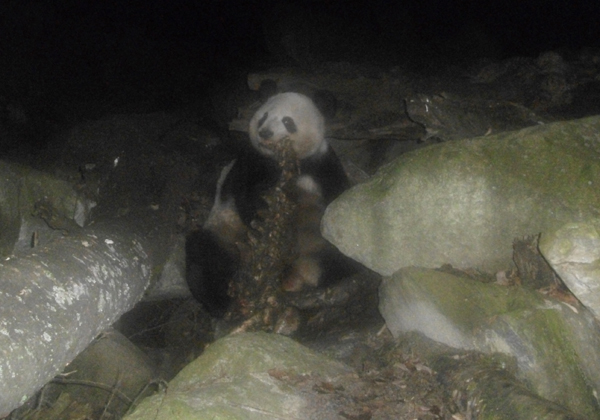 A wild panda captured by an infrared camera eating a dead wildebeest in a forest in Pingwu, Sichuan province, on Nov 9, 2011. [Provided to China Daily]
Recently monitoring the panda habitat at the Laohegou State Forest in Sichuan's Pingwu county, near the Baishuijiang Panda Nature Reserve in neighboring Gansu province, researchers came across a strange find. It was a dead adult wildebeest that had been trapped between rocks in a ravine in late October.
"The wildebeest must have got stuck when it was running and then died," said Chen Youping, chief of the Pingwu-based State-level panda reserve.
The researchers also noted signs that another animal had been eating wildebeest's leg.
"To learn what kind of animals would be feasting on the wildebeest, researchers installed an infrared camera near it on Oct 28," Chen said.
The camera was retrieved on Dec 8. To the researchers' surprise, its roughly 600 photographs showed that the wildebeest was being eaten by a giant panda.
The ravine where the wildebeest was found is nearly 2,000 meters above sea level and is covered with snow and ice, which prevented the wildebeest from decaying.
The first photo of the panda was taken around 11 pm on Nov 9. It began eating the wildebeest around midnight, after becoming accustomed to the artificial lighting the researchers had set up.
"The panda, whose sex is unknown, was a great eater with a mouth full of meat," said Shao Liangkun, who is the chief of the general office of the Wanglang Nature Reserve and who installed the camera near the wildebeest.
"Because the camera's memory was full at 5 am on Nov 10, we don't know what happened afterward."
Researchers in Pingwu, which is home to 230 of the 1,597 wild pandas in existence, began installing infrared cameras to monitor the panda five years ago. Since then, they have installed more than 100 there, Chen said.
About a month after installing a camera, reserve employees would retrieve it to change its batteries and memory card.
"An infrared camera starts taking photos only if it senses heat," Chen said. "This carnivorous panda used up all the camera's memory card within a single night."
Infrared cameras in Pingwu have captured pandas exhibiting various behaviors - rutting and attacking sheep.
"But this is the first time an infrared camera in the county has shown a panda eating meat," Chen said.
Chen, who has found animal bones in pandas' droppings before, said he feels lucky to have seen the photos. He said he wishes workers had tried to ascertain how much meat the panda had eaten and to analyze its droppings.
"Droppings would help researchers understand the digestion of pandas, which usually eat bamboo," he said.
He said researchers from the reserve will visit the ravine next week and conduct an investigation.
Pandas were meat-eating animals several million years ago. As a result of changes in the environment, they changed their dietary habits and began mainly to eat bamboo, Chen said.
China Daily