Wen, Noda talk on ties, Korean Peninsula
Updated: 2011-12-25 19:37
(Xinhua)
| | | | | | | | | | | |
| --- | --- | --- | --- | --- | --- | --- | --- | --- | --- | --- |
|   | | Comments() | | Print | | Mail | | Large Medium  Small | 分享按钮 | 0 |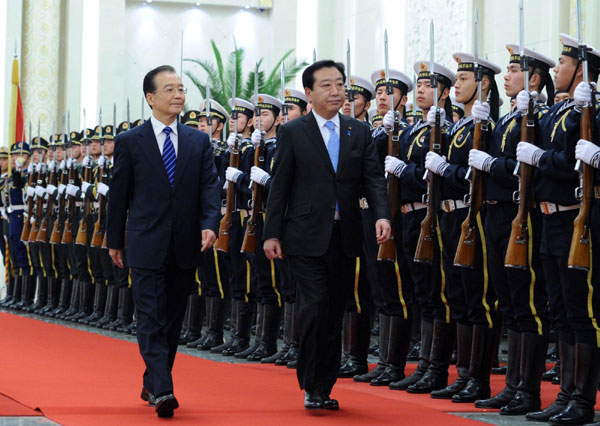 Premier Wen Jiabao (L, Front) and visiting Japanese Prime Minister Yoshihiko Noda inspect the guard of honour during a welcoming ceremony held at the Great Hall of the People in Beijing, capital of China, Dec 25, 2011.
[Photo/Xinhua]
BEIJING - Chinese Premier Wen Jiabao and visiting Japanese Prime Minster Yoshihiko Noda held talks Sunday afternoon on China-Japan ties and Korean peninsula situation at the Great Hall of the People in Beijing.
China and Japan should be good neighbors and partners rather than opponents, Wen stressed.
Wen said that peaceful coexistence, long-term friendship from generation to generation, mutually beneficial cooperation and common development between China and Japan are in line with the fundamental interests of both sides and their peoples and also beneficial to the peace, stability and prosperity of Asia and the whole world, since the two countries are close neighbors separated only by a strip of water.
The four political documents of China and Japan are the overall conclusion of the historical experience and lessons, Wen said, adding that each principle should be abided by while the problems and divergences should be properly resolved.
Wen urged that a stable, healthy and long-term Sino-Japan relationship should be guaranteed.
Wen said China and Japan are preparing for the 40th anniversary of the normalization of bilateral diplomatic relations scheduled for 2012. The two countries have achieved abundant fruits in exchanges and cooperation with the improvement of bilateral ties, he said.
Deep influence of the global financial crisis has been continuously expanding while the complexity and seriousness of the world and regional situation are beyond prediction, Wen said. So it is necessary and conditions are ready for China and Japan to closely work together when facing the challenges and to deepen the strategic and mutually beneficial relations, he noted.
Wen called on both countries to seize the opportunity to promote the dialogue and communication in bilateral, regional and international affairs.
He also urged the two nations to take effective measures to accumulate mutual trust in order to make solid foundation for extending cooperation.
Wen called on the two countries to take the 40th anniversary of normalization of ties in 2012 as an opportunity to hold friendly exchange activities between the two peoples, so as to strengthen cultural, educational, media and youth exchanges.
Noda said he was "glad" to make the China visit shortly before the 40th anniversary, and he hoped his visit would play an important role in deepening Japan-China strategic reciprocal ties.
He highlighted the political mutual trust as the major foundation for the development of bilateral ties, saying China's development is an opportunity for Japan and other countries.
Japan is ready to continue to strengthen high-level visits and exchanges between political parties, parliaments and peoples with China, make closer communication and cooperation on major regional and global issues, join hands with China in coping with challenges, and make active efforts for the development of Japan-China relations and regional peace and stability, Noda said.
He also vowed to strengthen bilateral cooperation in the fields of trade, energy and environmental protection, finance, and post-disaster reconstruction.
Wen said China hopes to intensively study with Japan on the development direction, critical areas and effective measures for the Sino-Japanese economic cooperation under the current situation and resolve related problems through negotiations.
Wen urged both countries to further improve cooperation in energy conservation, environmental protection, green economy, low-carbon economy and new- and high-tech sectors.
Wen said China also has the desire to closely cooperate with Japan to beef up the development of local-currency-denominated financial markets of the two countries and, push forward the free trade zone process for China, Japan and the Republic of Korea as well as financial cooperation in east Asia.
China will continue supporting and participating in Japan's post-disaster reconstruction, Wen said, adding that the two sides could strengthen experience exchange and explore the pragmatic cooperation in disaster prevention and reduction as well as in nuclear plants security.
The two leaders also discussed the situation on the Korean Peninsula, saying maintaining peace and stability on the peninsula is in the common interests of all countries and parties concerned.
They hoped that relevant parties could continue to join hands to facilitate an early resumption of the stalled Six-Party Talks, resolve related issues through dialogues and consultations, promote peace and stability on the peninsula and realize the long-term stability in the region.
After the hour-long talks, the two prime ministers also witnessed the signing of two deals including a document on youth exchanges and a memorandum of understanding on the launch of a China-Japan investment fund on energy conservation and environmental protection.
Prior to the talks in the Great Hall of the People, Wen held a welcoming ceremony for Noda's two-day official visit, which is also his first China visit since taking office in September.
Noda arrived in Beijing on Sunday afternoon. He will meet with Chinese President Hu Jintao and top legislator Wu Bangguo on Monday.