Nations are exploiting power of 'weiplomacy'
Updated: 2011-10-03 09:03
By Qin Zhongwei (China Daily)
| | | | | | | | | | | |
| --- | --- | --- | --- | --- | --- | --- | --- | --- | --- | --- |
|   | | Comments() | | Print | | Mail | | Large Medium  Small | 分享按钮 | 0 |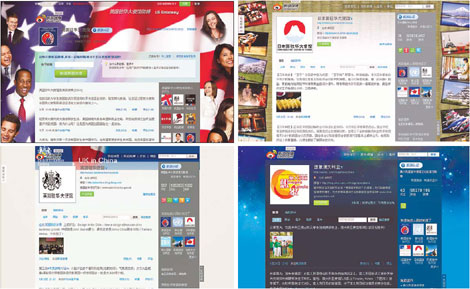 The micro blog services launched by various foreign embassies in China. [Provided to China Daily]
BEIJING - The world became a smaller and flatter place thanks to the Internet. But with the emergence of Weibo, the micro blog, cyberspace has again become multidimensional, as Weibo has been chosen as the most effective and immediate platform for people to say not only who they are, but also how they got that way.
The micro blog frenzy continues to expand, spreading to the Chinese and foreign embassies in China. In the West, it's called "twitplomacy" - after Twitter. In China, "weiplomacy" has come into being in this country with nearly 500 million netizens and 195 million micro-bloggers.
So far, a large number of foreign embassies and international organizations in Beijing have registered their accounts on China's various micro blog service providers. The list of nations includes the United States, Japan, India, Thailand, Belgium and many others, covering nearly all the major continents.
Some, such as the US, have also registered official accounts for each of their consulates in the country's different regions.
While some embassies, such as those of the US, India and Korea, have posts on their micro blogs explaining their visa application policies, the embassies of Thailand and France offer language courses, and the French micro blog also often holds Q&A sessions and distributes gifts to the its followers. All the embassies have created innovative ways to bond with their fans.
These micro blog accounts also have common characteristics. They are all written in Chinese (obviously).
They all use the platform to promote the culture of their countries and tourism, with pictures, texts, or videos attached. More interesting, these micro blogs have become an unofficial platform for the foreign missions to release and update official news that they want to reach the public.
When Joe Biden, vice-president of the United States, visited China in August, it was the social media, or micro blog, more specifically, that first released information about his arrival and later quickly updated with accounts of activities in Beijing and Chengdu.
The Japanese embassy in China once used its micro blog - which has more than 74,000 followers - to express the nation's heartfelt gratitude to the Chinese government and people for the help provided right after the devastating tsunami and earthquake on March 11.
The up-to-the-minute news and messages these embassies post show that the micro blog has become the medium of choice for foreign diplomatic agencies to conduct public diplomacy.
While diplomatic events and news conferences, for example, were previously open only to diplomats and journalists, times have changed. Anyone interested in diplomacy can now become involved with the help of these modern media.
China's Foreign Ministry registered a micro blog account, in April, which is named Waijiao Xiaolingtong (Diplomacy Source).
As the first Chinese ministry with a micro blog account, it attracted around 470,000 followers within a few months and has more than 1,300 posts to date. More than a platform for releasing information about top Chinese officials' state visits and providing timely contact information to overseas Chinese when emergencies occur, the micro blog operates seven days a week and sometimes after office hours.
It also shares with netizens the experiences of diplomats working abroad and other, more whimsical information, such as proper table manners.
In these posts, it uses more everyday language peppered with humorous online catchphrases, something that has modified people's impressions of the government agency.
"Public diplomacy no longer solely depends on official channels. The communication forms will become increasingly diversified, digitalized and public-oriented in the future," said Yu Guoming, a communications professor at Renmin University of China.
"We are trying to maximize our outreach, and this is a new mode of communication to reach out to more young Chinese people," S. Jaishankar, India's ambassador to China, told the media.