Micro blogs: The new grapevine
Updated: 2011-10-03 08:47
By He Wei (China Daily)
| | | | | | | | | | | |
| --- | --- | --- | --- | --- | --- | --- | --- | --- | --- | --- |
|   | | Comments() | | Print | | Mail | | Large Medium  Small | 分享按钮 | 0 |
The unwary can find themselves engulfed in a maelstrom of criticism, He Wei reports.
Ziqian (not his real name, but an avatar he uses online) is in Paris working on his master's degree, but he stays in close touch with his contacts in China through Sina Corp's Weibo, a micro blog platform. It was a pleasant way to keep up with acquaintances. But that all changed when Ziqian quoted a blog post from an alumnus of his alma mater, Nanjing University, on July 5. It said the school did not organize students to sing Red songs ahead of July 1, the 90th anniversary of the founding of the Communist Party of China. Ziqian suddenly found himself inundated with comments from enraged bloggers whom he didn't know. He had lost all integrity, they said.
Ziqian spent the whole night arguing with one netizen who assailed him with insults. He was left feeling tired and puzzled.
He said he would have given up micro-blogging altogether as "purely useless", but he uses it to stay in touch with his girlfriend.
Micro-blogging has been growing rapidly, dwarfing the many other forms of social networking that came into being only three or four years ago.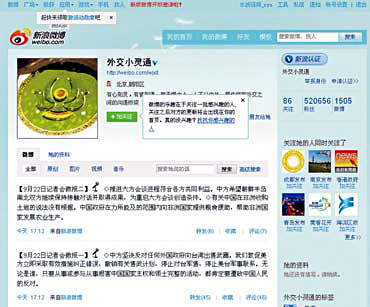 图片说明
Famed for spreading messages almost instantly and supervising the doings of agencies and organizations, micro blogs have already won some notable battles.
In March, micro-bloggers persuaded the city of Nanjing, Jiangsu province, to spare 600 old trees that were to be cut down; they also organized assistance to earthquake victims in Japan.
In July, they brought the Red Cross Society of China and other philanthropies under scrutiny.
But, like everything in life, there is also a downside to micro-blogging.
In the Weibo-dominated virtual world, Ziqian's experience has proved a common occurrence. A 28-year-old woman, surnamed Zhang, who declined to disclose her full name, works at a TV station in Jiangsu province. She recounted her recent encounter with online abusive remarks.
After watching a popular talent show, Zhang wrote half-jokingly online - without using her real name - that the program was boring and lacked imagination. Regarding herself as an "industry insider", Zhang believed her reasoning had some objective basis.
Nevertheless, she was soon confronted with a wave of criticism, some of it vulgar, saying she had no appreciation for the arts.
"I was very depressed by the comments. It's like you get kidnapped by mainstream opinion," she said. "I lost the desire to share my views with others."
"I respect the freedom of speech doctrine, and everyone is allowed to publicize his or her thoughts," Zhang wrote in a separate post. "But don't hurl random assaults at others and take for granted that whatever you say is truth."
Micro blogs have also made some ordinary people famous, though not in the way they would like.
Zhang Mingyi, 22, is one such person.
After appearing on a dating show on Shanghai-based Dragon TV, she said her micro blog inboxes were filled every day with letters lashing out at her, because of her open enthusiasm for Japanese culture and a failed marriage.
Some netizens are relentless in their resentment of her. Even her micro blog followers received warnings to stay away from the "quisling". One such message read: "Go tell her to marry a Japanese man. Don't act so shamelessly in China".
Similarly, Guo Meimei, now a household name, said she was being stalked and even threatened in early September, after she bragged in a micro blog post about her wealth and - untruthfully - claimed to hold a position at the Red Cross Society of China.
Bloggers launched a vast campaign boycotting a song she released online and an online game she endorsed. They satirized her plastic surgeries and gossiped about her whereabouts. In a recent interview with China Daily, Guo said the animosity she stirred was so intense that she had even considered suicide.
"I feel like I am an enemy of the state," she said. "The truth is that I am just a stupid girl who did something really stupid. No matter what I do, nobody wants to forgive me."
Celebrities are more likely to become the targets of the word-of-mouth maelstrom online. Yang Lan, for instance, a famous TV anchorwoman, came under tremendous pressure as bloggers dug into her connections with China-Africa Hope Project, an organization set up by a prominent philanthropist, Lu Junqing, that became controversial because he empowered his 24-year-old daughter to manage the charity's substantial donated funds.
Bloggers questioned whether the purpose of Lu's initiative was charity or cashing in on donators. Rumors held sway on micro blogs.
A recent study from University of Michigan suggests that it is crucial that people distinguish between the truth and unfounded rumors in online social media, where vast amounts of information are easily spread across a large network by sources of unverified authority.
According to Xie Gengyun, author of the 2010 China Micro Blog Annual Report and deputy dean at the Arts and Humanities Research Institute at Shanghai Jiaotong University, micro blogs can generate and spread unfounded rumors, such as the "Shanxi earthquake" and "Louis Cha's death".
"Micro-bloggers are currently the better-educated people in China. But users will soon include those at the grassroots level, and the function of micro blogs will change from celebrity-watching to online socializing and venting about life's disappointments," Xie said.
China's Internet, with more registered users than any other nation, is a lively forum for public opinion, said Xinhua News Agency. But "concocting rumors is itself a social malady, and the spread of rumors across the Internet presents a massive social threat."
The micro blog platform tends to breed more rumors and assaults than other channels because of the limited amount of characters each post can use, according to Xiong Yihan, a sociologist with Fudan University.
"The word limit has made it hard to present a balanced and fair opinion. Besides, posts with extreme views are more likely to be forwarded online, because they satisfy people's thirst for the unknown," Xiong said.
Xiong said Internet companies should suspend the accounts of users who spread rumors or libelous statements.