China vows to boost European investment 
Updated: 2011-09-15 07:10
By Qin Jize and Ma Liyao (China Daily)
| | | | | | | | | | | |
| --- | --- | --- | --- | --- | --- | --- | --- | --- | --- | --- |
|   | | Comments() | | Print | | Mail | | Large Medium  Small | 分享按钮 | 0 |
DALIAN, Liaoning - Premier Wen Jiabao said on Wednesday that China is ready to increase its investment in debt-ridden Europe, and urged the European Union (EU) to recognize China as a full market economy.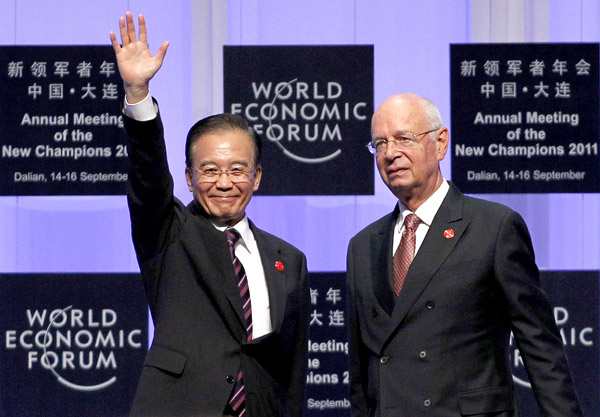 Premier Wen Jiabao and Klaus Schwab, founder and executive chairman of the World Economic Forum, arrive for the opening of the forum's Annual Meeting of the New Champions in Dalian, Liaoning province, on Wednesday.[Photo/China Daily]
"European countries are facing sovereign debt problems and we've expressed our willingness to give a helping hand many times. We will continue to expand our investment there," Wen said while addressing 1,500 business leaders and government officials at the opening of the World Economic Forum, known as the "Summer Davos".
Wen said that he reiterated China's support to European Commission President Jose Manuel Barroso in a recent phone call.
However, he added that "EU leaders and the leaders of (Europe's) major countries must look at Sino-EU relations from a strategic viewpoint.
"Based on WTO rules, China's full market economy status will be recognized by 2016. If EU nations can demonstrate their sincerity several years earlier, it would be the way a friend treats a friend," he said.
He said he hoped his scheduled summit meeting with EU leaders next month will lead to a breakthrough in recognition.
Wen also expressed concern over the spread of the sovereign debt crisis in Europe. China sits on more than $3 trillion in foreign exchange reserves.
He urged the United States and some European countries to tackle their problems properly.
"Europe and the US must adopt responsible and effective fiscal and monetary policies in a bid to reduce debt pressures," Wen said during discussions with business leaders at the forum.
Wen's comments came as global markets have been rocked by renewed fears that Greece will default on its debt obligations.
Portugal and Ireland have also received rescue packages. There is growing speculation that Italy and Spain could follow suit.
The Financial Times reported on Monday that Italy had asked Beijing to buy "substantial quantities" of its debt.
Li Daokui, a professor of finance at Tsinghua University and an academic member of the central bank's monetary policy committee, said China should not blindly buy EU debt since it would only prolong difficulties in the euro zone.
The purchase of Italian treasury bonds should be conditional, requires further study and China should be prepared for the worst-case scenario, he said.
Ding Chun, chief director at the Europe Research Center of Fudan University, said buying bonds is a direct way to deal with the debt crisis.
"To invest in real assets in the European market is surely a good thing for China, as it lowers the default risk while helping the EU. But there are barriers in the EU to Chinese companies," Ding said.
Chen Fengying, director of the Institute of World Economic Studies under the China Institutes of Contemporary International Relations, said that the debt crisis could very likely lead to a total collapse of the euro and the European Union.
"And that will end in a situation that no one wants to see - a single international financial system dominated by the US dollar," she said.
She noted that that EU's biggest problem is not their huge debt and high unemployment, but lack of unity.
There are now two foreseeable measures to deal with the problem, she said.
The first is to let Greece go bankrupt and stabilize the euro zone, ensuring the safety of other economies, such as Italy. The second is for Germany, the largest economy in the EU, to reorganize the entire European market to tackle the crisis.
"I think China should support the EU on tackling the crisis, because we'd like to see diversity in the global financial market, with the euro playing an important part," she said.
The problem for the US is that it won't take any responsibility to find a way out of its debt problem, she said.
The US has twice launched quantitative easing, and is likely to do it again but this only serves to shift the problem to other countries, Chen said.
Hot Topics
Organ transplant bonds mother and son