Bun shops 'sneaking in banned additive'
Updated: 2011-09-14 07:59
By Zhou Wenting (China Daily)
| | | | | | | | | | | |
| --- | --- | --- | --- | --- | --- | --- | --- | --- | --- | --- |
|   | | Comments() | | Print | | Mail | | Large Medium  Small | 分享按钮 | 0 |
BEIJING - Several steamed bun shops that carry the name of a well-known chain have been accused of illegally mixing essence into their meat stuffing to boost flavor.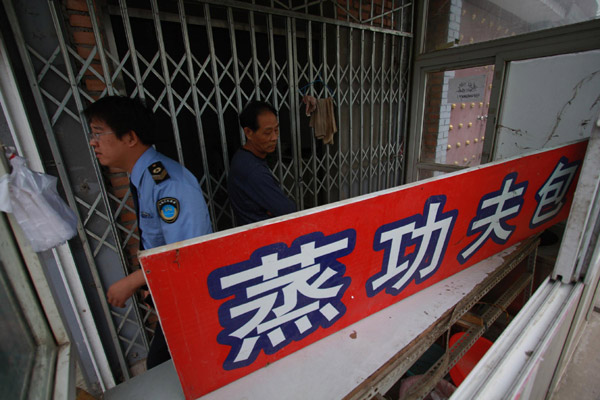 A worker from Beijing health bureau seals up a bun shop named Zhenggongfu at Huoying subway station in Changping district on Tuesday. Zhenggongfu shops have been accused of illegally mixing essence into meat stuffing to boost flavor. [Photo/ China Daily]
The use of essence in staple foods such as rice and buns is banned, according to China's food hygiene rules.
Yet, the owner of a shop named Zhenggongfu in Beijing's Changping district said he adds the flavoring to meat to make it more appealing.
"It is hard to do this business without essence. You can't compete with us if you don't have it," said the man, a native of East China's Anhui province.
Experts say vendors at four Zhenggongfu shops are skirting the edges of the law by using the additive in stuffing for buns, a popular breakfast option. Some even use products labeled only in English.
"All the imported food products sold in China must carry Chinese specifications on the packaging, including the sell-by date, manufacturer and distributor, and their contact information," said Dong Jinshi, executive vice-president of the International Food Packaging Association.
A veteran inspector and researcher of prepackaged imported food, Dong said some labels in foreign languages offer hardly any information.
"And sometimes traders don't translate labels because they don't want consumers to know what the products really are," he said.
Unidentified additives can be hazardous, as they often do not go through inspection and quarantine procedures, and can by fake or shoddy products, say experts.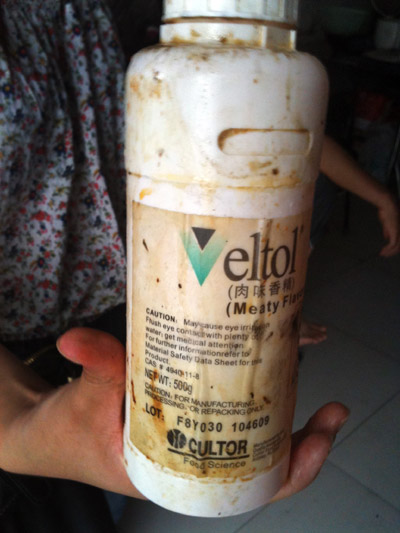 The additive allegedly used in meat stuffing. [Photo/China Daily]
"Usually different kinds of essence have a recommended usage limit. Overuse may cause harm to the liver, kidney, and impair the immune system," Dong said. "The rising incidence of liver cancer is related to the intake of food additives in both food and packaging."
Zhenggongfu is a famous steamed bun chain in the capital. When China Daily phoned the company on Tuesday, a woman who gave her name as Qiao hung up when she became aware the caller was a reporter. A spokesman for the company earlier told Beijing News that all the shops involved in the scandal were not franchised outlets.
Neither the city's market nor health watchdog is claiming responsibility for this case.
The industrial and commercial bureau said health officials are responsible for checks on catering businesses, although Cai Changjing, a publicity official at Beijing's health inspection office, said: "We are only in charge of those with health licenses, while the industrial and commercial bureau oversee the others."
Lawyers said government agencies should take measures to intervene in the breakfast market, adding that food made on-site is often more problematic than prepackaged food.
"The market and health authorities should carry out joint enforcement to investigate and punish shops," said attorney Yi Shenghua at Beijing Ying Ke Law Firm.
In July, several bun shops in Shandong province were found using pork neck, which is banned because it contains a large number of lymph glands, lipomas and thyroid, and is rich in viruses, hormones and other substances.
Hot Topics
Organ transplant bonds mother and son