Construction tycoon tops rich list
Updated: 2011-09-08 07:56
By Wang Zhenghua (China Daily)
| | | | | | | | | | | |
| --- | --- | --- | --- | --- | --- | --- | --- | --- | --- | --- |
|   | | Comments() | | Print | | Mail | | Large Medium  Small | 分享按钮 | 0 |
SHANGHAI - The Sany Group's founder Liang Wengen is China's richest man with a fortune of 70 billion yuan ($11 billion), according to the Hurun Rich List 2011.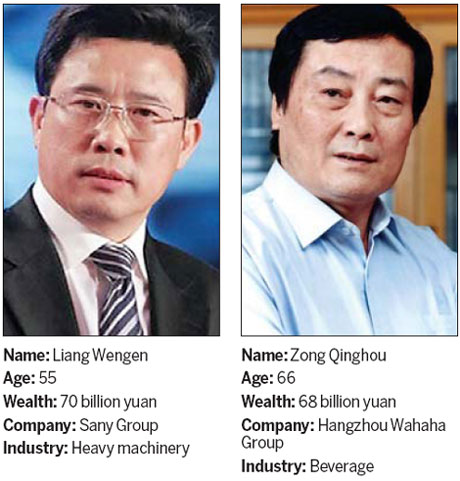 The list, released by the Hurun Research Institute on Wednesday, showed that the nation's most affluent group continued to expand rapidly this year, buoyed by China's unceasing construction boom and growing retail market.
It has been a record year for China's rich, despite the ongoing difficulties of the world economy.
The number of US dollar billionaires on the list shot up to 271 from 189 last year and 130 in 2009.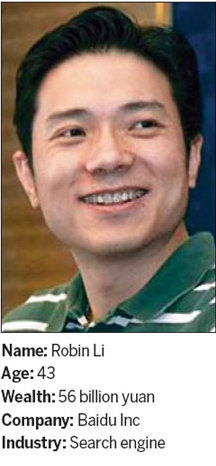 The cut-off point to make the top 1,000 on the Hurun list jumped to $310 million, compared with $220 million last year and $150 million in 2009. The average wealth hit $924 million.
"China's rich have defied the global financial crisis with another record year of growth," said Rupert Hoogewerf, the institute's chairman and chief researcher.
Another driver for the growth in wealth has been a large number of successful stock market listings.
Twenty-nine individuals in the top 50 count property as one of their main sources of wealth.
The super-rich are well-connected too, the report said. About one-third of those in the top 50 are delegates to the National People's Congress or Chinese People's Political Consultative Conference, or are senior Party members.
With China's construction explosion showing few signs of slowing, Liang's heavy construction equipment is in strong demand and his Sany Group has come a long way since its founding in 1989 as a small welding materials factory in central China's Hunan province.
Liang's $11 billion fortune is based on his 58 percent stake in Sany, which currently contains two listed companies. The 55-year-old plans to go public with the entire operation next year.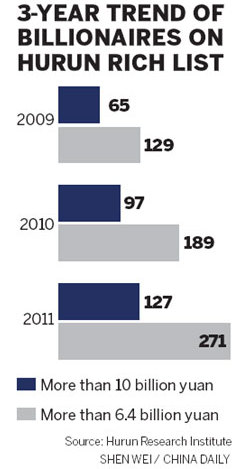 Another member of the super-rich, Zong Qinghou, founder of food and beverage giant Hangzhou Wahaha Group, fell to second place this year from first in 2010.
The 66-year-old's company has seen profit margins squeezed, resulting in a drop in his wealth from $12 billion last year to $10.7 billion this year, even though sales rose about 30 percent.
Zong was followed by 43-year-old Robin Li, CEO and co-founder of Baidu Inc and the youngest of the top 10 with a net worth of $8.8 billion.
Google Inc's withdrawal from the Chinese market last year has allowed Baidu to build on its dominance in the Chinese-language Internet search services.
Hidden billionaires
The real number of China's wealthiest people is probably a lot more than 271, since there are an estimated 300 hidden US dollar billionaires.
"You can double the real number of billionaires in China to nearer 600," Hoogewerf said.
More broadly, China has 960,000 individuals with personal wealth of 10 million yuan or more, according to the Hurun Wealth Report 2011 released in April, up 85,000 or 9.7 percent year-on-year.
The average rich lister on the Hurun Rich List 2011 is 51 years old. On average, these individuals left government jobs at age 33 and invested in what are now their main businesses at 37.
It took the average entrepreneur 10 years to list their company, and many started to cash out last year, according to the institute.
Not only are China's rich getting richer, but they are also becoming increasingly generous, according to the Hurun Philanthropy List 2011, a ranking of the 100 most generous individuals measured by the value of their cash or cash-equivalent donations over the past year.
Cao Dewang and his family donated $700 million in the past year, taking the title of China's most generous philanthropist.