False charges deter lending elderly hand
Updated: 2011-08-31 07:55
By An Baijie (China Daily)
| | | | | | | | | | | |
| --- | --- | --- | --- | --- | --- | --- | --- | --- | --- | --- |
|   | | Comments() | | Print | | Mail | | Large Medium  Small | 分享按钮 | 0 |
BEIJING - Questions arose on Tuesday over how much help the public should give to the elderly after an old woman in East China's Jiangsu province was alleged to have libeled a bus driver who had lent her a hand.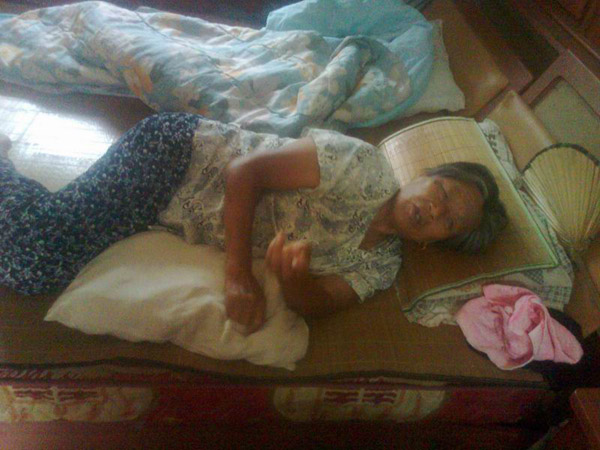 Shi Shuying, who was helped by Yin Hongbin, rests in her home in Nantong.[Photo/China Daily]
The woman, Shi Shuying, 81, apologized to Yin Hongbin, the bus driver, on Monday for saying a bus he was driving had knocked her off a tricycle. She said she had in fact been unconscious when she had fallen to the ground.
On Friday at noon, Shi was lying on an overpass in Rugao, Nantong city, when Yin drove his bus by.
Seeing her on the ground with her ruined tricycle nearby, Yin pulled his bus over, stepped off together with a ticket taker and helped the woman to stand up. He left the scene only after a villager who was acquainted with Shi came to pick her up.
The woman, whose head was injured and who was sent to the hospital, reported the accident to the police afterward, claiming that it was the bus driver who had knocked her over. She also told the police the bus' plate number, according to a report by China Central Television (CCTV).
Yin dismissed the woman's accusation, saying that he had seen her lying on the ground with her tricycle more than 40 meters ahead of his bus.
According to Yin, the woman cried "someone please help me" when he approached her. After he had got the woman to stand up, a villager passed by and accused him of knocking her down. The woman, though, told the villager "it's not him" and let him go.
Yu Weizhen, the ticket taker on Yin's bus, said the woman thanked the driver for helping her stand. "When we asked her what had happened, she said that she had fallen off her tricycle by herself. Many vehicles passed, but none of them stopped to help."
Even so, Shi called the police after she had gone to the hospital, claiming that Yin had knocked her over. The woman's son also told the police that her mother had been knocked over by the bus.
Police officials watched a video taken from a camera set near the front windshield of the bus and learned the driver was telling the truth. The police also said that the bus bore no signs of a crash.
The woman and her son apologized on Monday for making false accusations against the driver, and the Nantong government decided to honor him as a "brave model citizen".
Huang Jianxiang, a well-known former CCTV anchor, said on his micro blog on Tuesday that if there were no video cameras on the bus, the driver would have probably been treated unjustly.
Xia Jinluan, a professor of social studies at Peking University, told China Daily on Tuesday that the case shows that social values have been distorted.
"Although the woman and her son apologized, the incident will have a harmful influence and will deteriorate the relations that exist among everyone in society," Xia said. "Fewer people will now want to offer help in such cases."
A survey initiated by the Hong Kong-based Phoenix TV's website, in which more than 20,000 netizens had taken part by Tuesday afternoon, showed that less than 7 percent of the respondents polled said they would stop while they were driving to offer the elderly help. More than 45 percent voted to "turn a blind eye" to old people in distress and 43 percent voted to "offer them help only if there is a video camera".
Several cases similar to Yin's have come to light recently. In November 2006, Xu Shoulan, a 65-year-old woman in Nanjing, Jiangsu province, fell over while trying to get on a bus. She was helped up by a man named Peng Yu, who was accused later by the woman of pushing her down.
In that case, a court noted that Peng was the first person to get off the bus, meaning it was possible that he had knocked the woman over. It therefore ordered Peng to pay the woman 45,876 yuan ($7,200) as a compensation and to cover 40 percent of her medical costs stemming from the accident.
Jin Huiyu contributed to this story.