Gymnast pledges to fight remaining cases
Updated: 2011-07-07 07:36
By Liu Yuhan (China Daily)
| | | | | | | | | | | |
| --- | --- | --- | --- | --- | --- | --- | --- | --- | --- | --- |
|   | | Comments() | | Print | | Mail | | Large Medium  Small | 分享按钮 | 0 |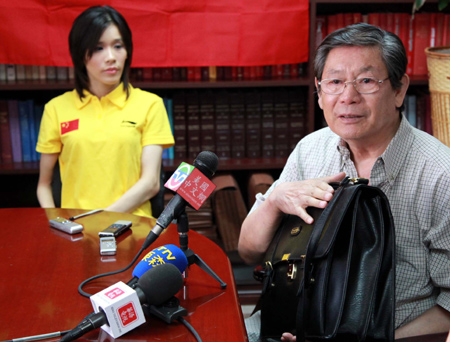 Sang Lan looks on as her former therapist, Lu Ping, speaks to the media in New York on Tuesday. [China News Service] 
NEW YORK - Chinese gymnast Sang Lan, who was paralyzed in an accident at the 1998 Goodwill Games in New York, said she will not drop any more cases in her fight to protect her legal rights.
Sang, wearing a luminous yellow Olympic team shirt, made the statement at a news conference at the offices of Hai Ming Law Firm in New York on Tuesday afternoon. Rumors had circulated that Sang might drop all her cases after her lawyer Hai Ming had withdrawn several in recent weeks.
In late April, Hai filed lawsuits at the US District Court for the Southern District of New York against three individuals and five institutions, seeking a total of $1.8 billion in compensation. The defendants include media mogul Ted Turner, who created the Goodwill Games, the US Gymnastics Federation, the former AOL Time Warner Inc, TIG Insurance Co and Xie Xiaohong and Liu Guosheng, two legal guardians appointed after the accident.
The compensation demanded was $100 million for each of the 18 claims filed, ranging from breach of agreement, violations of various federal, state and city laws, insurance violations, to defamation and negligence.
Additional charges were filed in mid-May against Xue Weisen, son of the two defendants Xie Xiaohong and Liu Guosheng, for sexual harassment, and Mo Hu, the well-known Chinese-American lawyer who represents the two defendants and others. That brought the total compensation sought to $2.1 billion.
However, Sang's lawyer Hai Ming withdrew the charge against Ted Turner on June 20, saying Turner as an individual has no legal responsibility in the case. On June 27, Hai also dropped a civil complaint against Xue Weisen because Xue is not a US citizen and is therefore not subject to the legal jurisdiction of the US Federal Court.
On June 28, a lawsuit against Time Warner was also dropped, reducing the total compensation sought to $1.7 billion.
That led to widespread speculation that other charges would be dropped.
However on Tuesday Hai told reporters that his team has collected enough evidence for the legal fight against those who infringed Sang's rights as an individual.
"We have collected every single piece of evidence for the case," Hai said, "and we are ready for a long march. No matter how long it may possibly take, we'll persist until we win."
Sang has also decided to fight Liu Guosheng and Xie Xiaohong, whom she stayed with in the United States after her injury. She said she was sexually assaulted by their son, Xue Weisen. She has also denied a media report that she and Xue were once in love.
Meanwhile, Hai revealed to the media that confidential agreements have been reached with the insurance company and the US Gymnastics Federation, but no details were given.
Sang was paralyzed after an accident during a warm-up at the 1998 Goodwill Games in New York, when she injured her spinal cord after the gymnastics coach from Romania walked into the vault area and removed a mat before she landed, according to a description of the incident Sang gave to the media.
Sang has been confined to a wheelchair since the accident.
"The injury has changed my life completely," Sang said. "The past 13 years have been a very difficult time for me to face my life. I cried, but I have had to face the next day with a smile and a positive attitude to be who I am today."
Sang also said that despite her physical difficulties, she would not give up any chance to protect her legal rights by resorting to the law, and she will do all she can to achieve justice for herself.
Sang arrived in New York last week and plans to stay in the United States for about two months, during which she will undergo rehabilitation training for her hands and lower legs.
In China, people have reacted in different ways to the case. Some expressed their support and sympathy, while others accused Sang of being greedy in seeking compensation and ungrateful in suing people who claimed to have taken good care of her after the accident.