Minding other people's business
Updated: 2011-08-30 10:46
By Wu Ni (China Daily)
| | | | | | | | | | | |
| --- | --- | --- | --- | --- | --- | --- | --- | --- | --- | --- |
|   | | Comments() | | Print | | Mail | | Large Medium  Small | 分享按钮 | 0 |
SHANGHAI - It was a sweltering summer morning and Ding Tao was patrolling the crowded Fuzhou Road in Shanghai, trying to convince shopkeepers to keep their goods off the sidewalk.
"Why should I do that?" grumbled a shopkeeper, reluctantly taking down some schoolbags hung outside the stationery store for a clearance sale.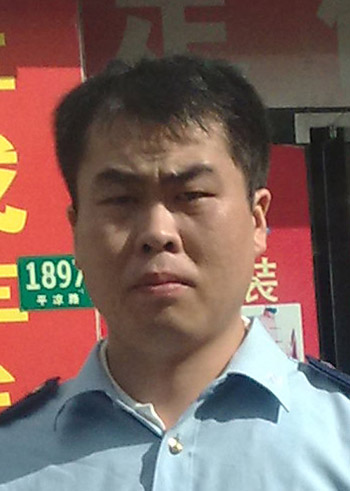 Ding Tao, an urban management officer with a master's degree in linguistics in Shanghai. [Photo/China Daily]
"Do they destroy the tidiness of the city?" the man said. "I'll take them down when you leave my shop."
Though he had graduated with a master's degree in linguistics, Ding was stuck for words.
The 29-year-old urban management officer, or chengguan, could have been working in an air-conditioned office like most of his classmates.
His first job after graduating from Shanghai International Studies University in 2009 was teaching English in a language school, where he stayed for no more than 10 months because he felt "psychologically bored".
"There was a lot of pressure because I not only gave classes, but also was responsible for student affairs."
When Shanghai's Huangpu district was recruiting for its city management and inspection brigade, Ding applied, and became a squad member last January.
"When I became a chengguan, my friends were surprised. Some said it wasn't worth it, that I deserved a better job. Actually, I felt the same way at the beginning."
But Ding said he gradually changed his view.
"The job offers a public service. Some people are hostile to us, but we're keeping the city tidy for everyone's sake," said Ding.
Yet getting the job was no easy feat.
"There were 700 people applying for positions and only eight were accepted. All are university graduates - which goes against the common notion that chengguan are poorly educated and even barbarian," said Yu Jinwen, head of the Huangpu urban management and inspection brigade.
Yu said that the brigade mainly hired young men retired from the army or ex-athletes.
Others get in the door with at least a bachelor's degree.
"It's by no means a waste of talent," said Yu. "Ding taught colleagues basic English. During the 2010 Shanghai Expo, he even compiled a Chinese-English booklet for our brigade on helping foreign tourists."
Chengguan are generally responsible for enforcing local laws and regulations relating to public facilities, environmental pollution, sanitation and street vendors. There are about 140 detailed tasks, said Ding.
"We come across various problems, such as a fruit stall on the road, a hauling company stacking bales on the street, or construction debris not properly disposed of," he said.
"It's exhausting," said Ding, now father to a 16-month-old daughter.
Still, he prefers this job to becoming an office worker, although he earns less, about 3,000 yuan ($470) a month, which he said is just enough to maintain the family.
Chengguan have become increasingly unpopular with the public in recent years due to many high-profile cases involving excessive abuse of force, especially clashes with street vendors.
But Ding insists they try their best to enforce the law in a civilized way, avoiding any clashes, verbally or physically.
Liu Yan, the only female officer in Ding's team, is a retired sprinter who joined the brigade three years ago. She is responsible for filming the process whenever they are carrying out their duties.
She said Ding is always very patient. "Once a street vendor quarreled with us and lay down in front of our automobile. Ding Tao kept on persuading him until he left peacefully."