Doc the prescription for improved health
Updated: 2011-08-26 08:11
By Erik Nilsson (China Daily)
| | | | | | | | | | | |
| --- | --- | --- | --- | --- | --- | --- | --- | --- | --- | --- |
|   | | Comments() | | Print | | Mail | | Large Medium  Small | 分享按钮 | 0 |
YUSHU, Qinghai - Dr Chaoguo's arrival is just what the township ordered.
Although the young physician has only about 100 kinds of Tibetan medicine, and his most advanced instrument is a stethoscope, the opening of his clinic in Yege township is offering new hope to the 2,000 semi-nomadic yak herders in Qinghai province.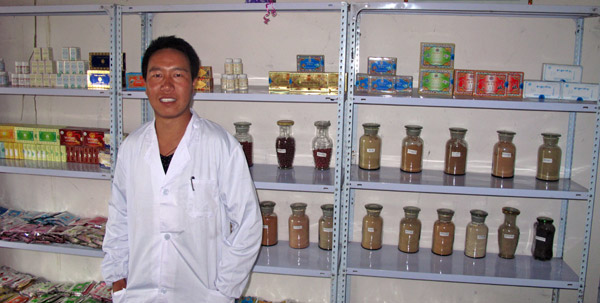 The arrival of traditional Tibetan medicine doctor Chaoguo, 28, in Yege township in Qinghai province offers better healthcare to the remote settlement of about 2,000 semi-nomadic yak herders on the Tibetan Plateau. [Photo/ China Daily]
"There was nobody with a medical degree or who could diagnose, let alone cure, diseases before Chaoguo came," said Tseringbum, the English teacher at Yege's primary school.
Tseringbum recalled being terrified when a fourth-grade student went blind after he was given the wrong medicine at one of the township's three small pharmacies. The student's sight returned when he stopped the treatment, the teacher said.
"If a student has a serious medical problem, we have to take him to the hospital on the back of a motorcycle," Tseringbum said.
"It takes more than a day, and sometimes the bike breaks down."
There is a "low-level" traditional Chinese medicine hospital in Qumalai county, residents say.
"But if there is a serious illness, people must go to Xining (the provincial capital), about 1,000 km away," said Chaoguo, the township's new 28-year-old doctor.
"Local people only want Tibetan medicine. Tibetan medicine takes longer to show results but is better at completely curing diseases."
About 95 percent of Chaoguo's stock is Tibetan treatments, while the remainder is Western medicine.
"Most Tibetan medicine is expensive and rare," Chaoguo said.
"Many kinds, like Tibetan antelope blood, meat and antlers, are hard to find. And it is difficult to transport medicine here, because the nearest seller is 1,300 km away. That also makes it more expensive here."
His entire stockpile is worth about 20,000 yuan ($3,100), he said.
Chaoguo has seen about 20 patients a week since he opened his single-room clinic in late June. He earned about 2,000 yuan in the first month, roughly 800 yuan of it profit. The average annual income in Yege is about 2,000 yuan, although about 60 percent of residents earn between 300 yuan and 1,500 yuan a year, said Kangia, chief of the township's Hongqi village.
The most common ailments in this Tibetan Plateau community are hepatitis and stomach diseases from the food, and frostbite and severe joint pains from the cold, Chaoguo said.
Temperatures drop to -25 C in winter, and it started snowing on Aug 4 this year. Most people live in tents, including 78 of the primary school's 137 students, who call seven cloth-and-pole structures their "dorms".
Chaoguo and his apprentice, 28-year-old Hargqin, who has accompanied him to study Tibetan medicine, are from Qinghai's Hainan prefecture.
"There are plenty of doctors in my hometown," Chaoguo said.
"I decided to come here after the quake to cure more people. There were no doctors or anybody selling Tibetan medicine when I arrived. Some ethnically Han people have even started coming here from far away to get Tibetan medicine."
But Chaoguo said he is still adapting to Yege's harsh conditions.
"It's hard for me to get used to life without fruit or vegetables," Chaoguo said.
Because Yege's soil is as thin in nutrients as its air is in oxygen, and it's so cold for so much of the year, nothing but ankle-high grass can grow for several hundred square kilometers.
"Most local people have never even seen a fruit or vegetable," Tseringbum said.
"They survive on yak dairy. The richer ones can eat a little meat once or twice a year."
Despite the hardships, Hargqin said he is glad he followed Chaoguo to Yege.
"This is a precious chance for me to learn about Tibetan medicine and get a chance to actually see patients," Hargqin said.
"I can see things in patients I couldn't before."
While most Tibetan traditional medicine diagnoses are made by monitoring patients' pulses and most treatments are boiled herbs, Hargin said he hopes to bring more advanced equipment to Yege, such as an X-ray machine.
But most treatments at the new clinic have been successful, despite the lack of modern facilities, Chaoguo said.
"We've been able to cure many people who would have just stayed sick otherwise," Chaoguo said.
"Some students could not find a cure to their illnesses outside, but they can here."