Libyan rebels to move leadership to Tripoli
Updated: 2011-08-26 07:32
(chinadaily.com.cn)
| | | | | | | | | | | |
| --- | --- | --- | --- | --- | --- | --- | --- | --- | --- | --- |
|   | | Comments() | | Print | | Mail | | Large Medium  Small | 分享按钮 | 0 |
Welcome to our live rolling coverage of the continuing events in Libya as the battle for Tripoli enters day five. Libyan rebels announced they will transfer their leadership from Benghazi to the capital Tripoli. Meanwhile, in a short audio broadcast on loyalist satellite TV channels, Libya's Muammar Gadhafi called on his supporters to march on Tripoli and "purify" the capital of rebels. Here we will bring you the latest developments as they happen.

6:10 am
The international community needs to take urgent action to release frozen Libyan assets to the Libyan National Transitional Council (NTC) to avoid a crisis in the future, Mahmoud Jibril, chairman of NTC's executive board said here on Friday.

5:20 am
Libyan rebels have taken control of the main Tunisian-Libyan border post Ras El Jedir, Tunisian Radio Mosaique FM reported on Friday evening.

4:40 am
A small number of Libyan rebels have arrived at the main Tunisian-Libyan border post, Ras El Jedir, and are involved in the fighting with forces loyal to embattle Libyan leader Muammar Gaddafi, Tunisian radio reported Friday evening.

3:20 am
NATO troops must leave Libya after the conflict in the northern African country was over, a senior Russian official said on Friday.

2:10 am
Algeria said it has adopted " strict neutrality" towards the Libyan crisis, stressing that it respects the choices made by peoples.

00: 50 am
In southern Tripoli on Friday, several kilometers away from downtown Green Square, stands the Bab al-Azizya compound, a military complex which had accommodated Libyan leader Muammar Gaddafi's offices, residential houses and soldiers until it was captured by rebel troops on Tuesday.

11:30 pm
British military officials on Friday confirmed that RAF Tornado GR4s struck a military facility in Libyan leader Muammar Gaddafi's stronghold of Sirte.

10:32 pm
Algeria denied Friday reports that the North African state will recognize Libya's rebel National Transitional Council (NTC) when the latter makes a commitment to fight the al-Qaida in the Islamic Maghreb (AQIM).

10:29 pm
The people of Tripoli ventured out to mosques on Friday, praying for peace and offering thanks for the fall of Muammar Gaddafi, though the Libyan capital remained locked down and dangerous as rebel fighters hunted the fugitive strongman.

9:57 pm
Cyprus on Friday recognized the Libyan rebel National Transitional Council (NTC) as the legitimate representative of the people of Libya, until democratic elections are held in the country.

9:22 pm
The African Union will not explicitly recognise Libya's national transitional council (NTC), two Western diplomats said on Friday.

9:01 pm
Rebels and forces loyal to fallen Libyan leader Muammar Gaddafi battled at Ras Jdir on Libya's coastal border with Tunisia, Arab satellite television Al Jazeera reported on Friday.

8:32 pm
President Jacob Zuma of South Africa and President Yoweri Museveni of Uganda are in Ethiopia to attend the Summit on Libya at the AU Headquarters in Addis Ababa.

7:44 pm
British Tornado jets fired cruise missiles overnight at a headquarters in deposed Libyan dictator Muammar Gaddafi's home town of Sirte, the Ministry of Defence (MoD) said on Friday.

7:24 pm
French President Nicolas Sarkozy would pay a visit to Libya as soon as possible, but only after the capture of embattled Libyan Leader Muammar Gaddafi, a local newspaper reported on Friday.

5:22 pm
UK Defence Secretary Liam Fox tells the BBC: "Last night the RAF launched an attack on the Gadhafi bunker in Sirte. Its necessary to ensure the command and control of the regime is not available in places like Sirte, should they move out of Tripoli."

5:18 pm
Stuart Ramsay from Sky News in Tripoli says rebel sources have told him government troops staged a counter-attack near the Rixos Hotel and Gadhafi's compound.

5:15 pm
Evidence is emerging that Hana Gadhafi, the dictator's daughter claimed killed by a NATO airstrike in 1986, is alive. A number of documents found in Gadhafi's compound appear to back up the theory. A British Council certificate, dated July 19th, 2007, showed that a "Hana Moammer Gadafi" had completed an English language course at its Libyan centre, achieving an A grade. Mary Fitzgerald of the Irish Times also found a passport photograph of a woman, dressed in medical garb, who appeared to be in her mid- 20s, an examination paper from a Libyan university medical faculty which was signed "Hana Muammar Gadafi" and a Sex and the City DVD box set; CDs of the Backstreet Boys, cellulite treatments; WellWoman vitamin supplements and stuffed toys.

4:40 pm
Bloomberg reports four airplanes were destroyed when Gadhafi forces pounded Tripoli airport with rocket fire - including an Airbus A330.

4:37 pm
BBC Middle East Bureau Chief Paul Danahar tweets "NATO hit 29 Gadhafi forces vehicles in Sirte yesterday. I'd expect NTC forces to push forward soon".

4:30 pm
CNN's Matthew Chance, one of the journalists held in the Rixos hotel by Gadhafi minders for five days, has sent out an amusing tweet: "Popped back to Rixos yesterday to get my stuff. Won't be staying there again". He then tweeted: "Now holed up in Tunisia hotel with many former Rixos inmates. I left them about 0100 still feasting. Just couldn't take pace".

4:22 pm
More now on the bodies found at a hospital in Tripoli. Forty one bodies have been found at an abandoned hospital in Abu Salim, the district of central Tripoli that saw fierce fighting overnight. In the hospital yard next to the parking lot is a pile of 20 decomposing bodies. In another hospital room are 21 bodies, piled onto gurneys. Another body lies on the driveway outside, a white sheet over it. The identities of the deceased are not known.

4:08 pm
Dozens of unidentified bodies lie in an abandoned hospital in Tripoli's Abu Salim neighborhood, which has been the scene of fierce fighting, BBC reports. Some are piled in the hospital yard, where they have been covered with blankets.

3:54 pm
The National Transitional Council is giving a news conference in Istanbul saying they are facing a dire financial crisis and urgently need money. Mahmoud Jibril says the NTC needs to collect weapons, build a national army and police force.



3:29 pm
Relief ships carrying medical and food aid have arrived in Tripoli from Misrata and Benghazi but they are stuck at the port because the area is not safe, according to a micro blog by Freedom Group which is connected to the opposition movement in Libya.

3:23 pm
Alex Thomson, a correspondent with the UK's Channel 4 News tweets: "Water's gone off now across much of Tripoli".

3:21 pm
Libyan Abdul El-Fortia says his family, from Misrata, have travelled with the rebels to Tripoli, where living conditions in the capital have deteriorated. He tells the BBC: "The level of security on the streets is very poor. There are mounds of rubbish piling up and there are also some areas in Tripoli where there are dead bodies still yet to be recovered."

3 pm
It is 3pm in Beijing and 9 am in Tripoli. Good afternoon and welcome to our live continuing coverage of the war in Libya. Time for a quick summary of the latest key developments.
• Libyan opposition officials announce their administration is now working out of Tripoli, as heavy fighting continues in parts of the city.

• The United Nations has called on all sides in the Libyan conflict to take steps to ensure there are no acts of violence and revenge after reports emerge of abuses and alleged summary killings by both rebels and troops loyal to Col Gadhafi.

• The battle for Gadhafi's hometown of Sirte looks like it is about to intensify with both sides building their forces in the area. There is speculation this is where the embattled leader is hiding. He is still on the run and has once again taunted his enemy with an audio broadcast from a secret location.

 • Unconfirmed reports say Gadhafi's spokesman Moussa Ibrahim has been captured in Abu Salim in Tripoli.

• Hospitals in the capital are deluged with casualties and struggling to cope. They are in urgent need of nurses and supplies. There is also a desperate shortage of water across the capital.

2:35 pm
A rebel chief claims they have cleared forces loyal to Muammar Gadhafi from the Abu Salim district, which has seen fierce fighting overnight. Mohammed Sayed Gargab tells the AFP news agency: "Abu Salim is under control. Gaddafi people are now in Mashrur, an adjacent neighborhood."

1:45 pm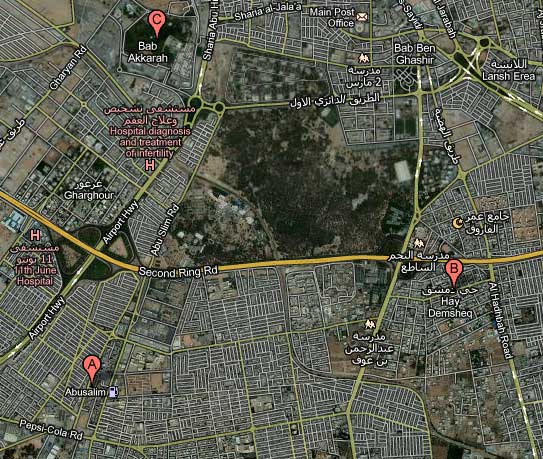 This Google map shows the pro-Gadhafi neighborhood of Abu Salim (A) in Tripoli which has witnessed some intense fighting in the last few hours. To the right is Hay Demsheq (B) which has also seen sporadic fighting. In the top left is Gadhafi's Bab al Azizia compound above the name Bab Akkarah (C). 


1:18 pm
Heavy fighting still continues in different parts of the capital Tripoli as rebel forces battle Gadhafi loyalists in several pockets around the city, Al Jareera's James Bays reports. He says "but as you look across the capital the situation now is better than it was 24 hours ago".

1:17 pm
Hospitals in Libya are in desperate need of scrub nurses and other medical staff to control infection, treat patients. Libya's Al HurraTV reports
 

12:30 pm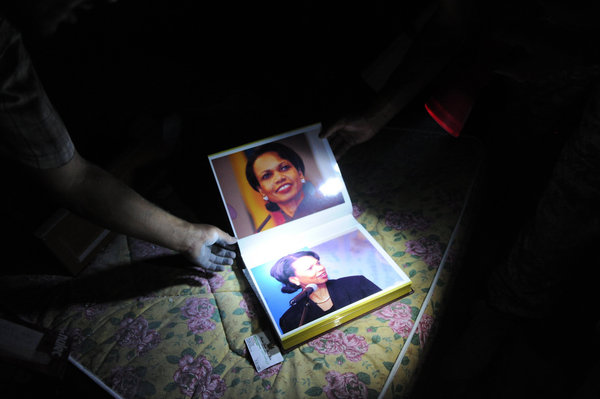 Rebels show many albums of former State Secretary Condoleezza Rice found on compound of Muammar Gadhafi, August 24, 2011, in Tripoli, Libya. [Photo/CFP] 

11:55 am
A rebel envoy estimated the cost of transferring power in Libya at $5bn, Sky News reports.

11:34 am
A blogger connected to the opposition movement called freeBenghazi says there are 25 doctors at Tripoli Medical Centre, but only two are surgeons. Some haven't slept for three days, taking care of 350 patients everyday.

11:31 am
News reports from inside Gadhafi's compound offer an insight into the bizarre life of the embattled leader. Gordon Rayner, from London's Telegraph reports "Gadhafi had built his own fairground, complete with carousel and spinning teacups, in an unlikely echo of Michael Jackson's Neverland ranch. And despite his apparent hatred of American politicians, Gadhafi's personal effects suggested he might have had a soft spot for one of them, as looters discovered an album filled with pictures of him meeting the former US Secretary of State, Condoleezza Rice."

10:54 am
A doctor in Tripoli says the scene in the city's largest hospital is quite chaotic. Dr Moez Zaiton told the BBC: "Ambulances are arriving every minute. There are 40 or 50 doctors all working at full capacity and they still aren't able to cope with the number of casualties."

10:50 am
The Gadhafi regime carried out an extraordinary clandestine lobbying operation to try to stop NATO's bombardment of Libya, and believed the western allies were likely to launch a full-scale invasion in either late September or October, The Guardian reports citing secret documents seen by the newspaper. The desperate attempts made by the Libyan government in its final months to influence US and world opinion. It approached key international opinion formers from the US president Barack Obama downwards.

10:40 am
Unconfirmed reports say Gadhafi's spokesman Moussa Ibrahim has been captured in Abu Salim in Tripoli, Euronews Journalist Jose Miguel Sardo tweets. The area has seen intense fighting overnight as rebels battle to take control of the area.

10:04 am
Libyan rebels claim to have captured the desert post of Al-Wyg in the southern Sahara near the borders with Niger and Chad, Al Jazeera reports. "We have taken control of Al-Wyg," a rebel spokesman, Mohammed Wardougou, said in the insurgents' bastion of Benghazi, stressing it was "strategic" because it has a landing strip.

9:26 am
Good Morning and welcome to our live rolling coverage of the revolution in Libya. Here's a brief snapshot of the latest developments.
• Heavy fighting can be heard around Tripoli as Gadhafi loyalists make a final stand in the capital. A number of explosions have rocked the area surrounding the embattled leader's compound in the past hour. Up to 1,000 opposition fighters have surrounded an apartment block near Gadhafi's former headquarters following unconfirmed reports that the he was inside with some of his sons.
• In a sign the end may be near, opposition forces have announced they will transfer their leadership from Benghazi to the capital Tripoli immediately.
• Gadhafi has made another broadcast to urge his remaining supporters to "purify" the capital of "rats", while his spokesman taunted his enemies by saying the 69-year-old was safe, healthy and "leading the battle for our freedom".
 • The US and South Africa have struck a deal to allow the UN to release $1.5bn in frozen Libyan assets for humanitarian needs.
• Scores of bodies have been found in Tripoli with signs of executions carried out by both sides. Thirty bullet-riddled bodies of fighters loyal to Gadhafi. Two had been bound with plastic handcuffs, and one was on an ambulance stretcher with an intravenous drip still in his arm.